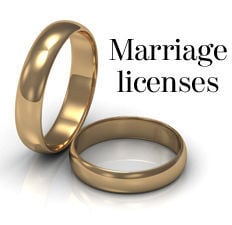 The following marriage licenses were filed at the Cumberland County Courthouse:
Alyssa Corinne Stoudt of Souderton and Curtis Lee Nyeholt of Beaver Falls.
Matthew Shawn Harbaugh of Carlisle and Rebecca Leigh Shay of Manheim.
Jesse Lee Jones and Amanda Martha Adzema of Mechanicsburg.
Kristyn Lynn Bradshaw and Michael Vincent Wagner, of Camp Hill.
Melanie Sue Richardson and Steven Christopher Austin, of Mechanicsburg.
Kyle Matthew Cribben and Donielle Lee Mauger, of New Cumberland.
Jessica Marie Bonner and Brian Anthony Lartin-Drake, of Carlisle.
Kristen Mary Smith and Joseph Jeffrey Bodkin, of Mechanicsburg.
Kalie Elizabeth Behler and Jonathon Troy Borkowski, of New Cumberland.
Ian Lionel Henry Ingram and Amisha Pravin Gadani, of Los Angeles.
Colby Sean Dove and Heather Ann Blass, of Carlisle.
John David Hammell and Rebecca Leigh Fowler, of Mechanicsburg.
Be the first to know
Get local news delivered to your inbox!