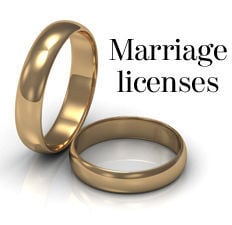 You have free articles remaining.
The following marriage licenses were filed at the Cumberland County Courthouse:
Brittany Felicia Cramer and Andrew Benjamin Cramer of Shippensburg.
Kenneth Bam Bryan, Jr. and Karen Sue Myers of Shippensburg.
Caitlin Mary Faust and Kyle Andre Maurer of Shioppensburg.
Samantha Marie Spitler and Shawn Raymond Lineman of Mechanicsburg.
James Keith Eichelberger, Jr. and Denise Marie Houser of Carlisle.
Brian Jay Troup, Jr. and Yvonne Marie Tucker of Carlisle.
Ciara Marquis Samento and Bryan Allan Tabler of Boiling Springs.
Jodi Lynne Rideout and Earl Raymond Moyer, Jr. of Carlisle.
Justine Lauren Seibert Stanton and Jordan Anthony Holtz of Mechanicsburg.
Lauren Meridith Ponder and Bryce Anthony Mitchem of Mechanicsburg.
Jamie Ella Reisinger and Dwight Lionel La Vergne of Newville.
Alexander James Sasa and Alexandra Nicole Ashby of Mechanicsburg.
Abigail Lynn Manley of Mechanicsburg and Jeffrey Donald Long of Hanover.
Timothy William Imes and Laurel Amber Shay of Carlisle.