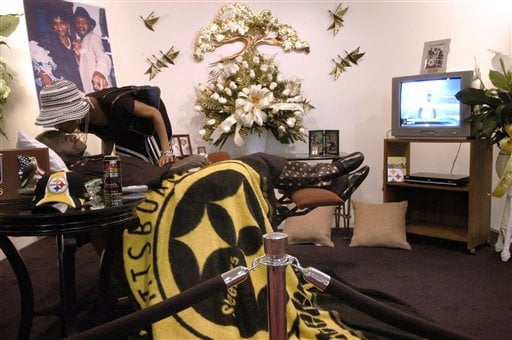 PITTSBURGH (AP) - Fans of some teams claim to "live and die" with their teams. But Pittsburgh Steelers fans really do, according to the organizers of a local university exhibit of fan artifacts that attempts to make sense of Steeler Nation.
The most macabre artifact is a picture of a dead man, 55-year-old James Henry Smith whose 2005 funeral home viewing saw his body poised in a recliner in front of a television showing Steelers highlights.
"That's like Steelers fandom in a nutshell," said Astria Suparak, director of Carnegie Mellon University's Miller Gallery, which is home to the exhibit "Whatever It Takes: Steelers Fan Collections, Rituals and Obsessions." It runs through Super Bowl Sunday.
Suparak contends Steelers fans aren't couch potatoes who passively consume the team's games. Rather, they're participants, many actively creating what the team is all about - whether it's MTV veejay by day, Jim Shearer, of New York, who shoots his own fan parody video footage and integrates it with game highlights and fictional characters he's created for his "Yinz Luv Da Stillers" channel on YouTube; or Denny DeLuca, the 57-year-old Pittsburgh-area chef who has temporarily donated his basement "man cave" crammed with hand-made Steelers minutiae to the exhibit; or bootleg T-shirt manufacturers who editorialized on quarterback Ben Roethlisberger's preseason sex assault allegations with an image of Ben and Tiger Woods and the caption, "Separated at birth?"
"It's about living and dying and having your individual and social identity wrapped up in the team," Suparak said of the exhibit.
There's is no sure-fire census of the team's fans, but Suparak and co-curator Jon Rubin, a CMU art professor, catalogued nearly 2,000 fan clubs or Steelers bars in the U.S., Canada, and every continent except Africa and Antarctica.
Rubin said the reason Steelers fans are spread so far and wide has been well-chronicled.
"It's the confluence of the demise of the economy and the steel industry and the rise of the team happening simultaneously (in the 1970s) and the diaspora of the fans who were tied to the team emotionally but had to leave Pittsburgh. The team became their way of staying connected to the city," Rubin said.
"And for the people still in the city, the team is a way of seeing an identity that is more powerful that what was going on in the city around them."
Still, all that sociology can't quite explain Blozik's Blitzburgh Cave, a bar in Bosnia, and La Botticella, another bar, in Rome, which is linked to the CMU exhibit by Skype so gallery patrons can interact with Giovanni Poggi's customers over a live feed. Poggi gradually became a fan as tourists and college students with Pittsburgh roots stopped in his bar looking for games on satellite TV over the years. Now he comes to the U.S. about once a year to watch the Steelers in person, Suparak said, and has even created an Italian version of the Terrible Towel.
Closer to home, the Super Bowl is expected to draw a large crowd at JD's Sports Bar & Grill in Grants Pass, Ore., where Steelers fans are known to pack the joint.
Ken Welch, 42, has tended bar there for 10 years and is the resident Steelers nut. He's a fifth-generation ironworker (his granddad was once president of the Ironworkers local in Los Angeles) and was "the first kid in the family born on the west coast." His dad grew up and played football in Springdale, about 15 miles up the Allegheny River from Pittsburgh.
"The owner's a Cowboys fan so he won't let me get away with calling this a 'Steelers bar' - but we've got it decked out pretty good in black and gold right now, baby," Welch told the AP earlier this week.
Welch said he loves the Steelers because they have "character, class, from the top of the organization to their fans you will find very few jerks .we've kind of led the way in character, and doing things right, without having to be smack-talkers."
Rubin said a belief that the Steelers stand for something more than football is a key to understanding their fans - and says their Super Bowl opponents, the Green Bay Packers, are viewed similarly by their fans.
"The Packers are named after a slumped industry up there, just like steel slumped here," Rubin said. "Up there, the community owns the team and here's it's a family-owned business complemented by the ethos of the way the team plays, the grind-it-out, hard-nosed style. They're very similar sorts of origin stories" for the teams, but, he notes, "the NFL Steelers brand into something much more personal. If you're in another city, you could look at that and not really understand it."
And if it sounds as though Rubin is speaking in almost mythic terms, he is - especially about what fans refer to as the Steelers' "culture" and their icon, the late Art Rooney Sr. who founded the team and headed the family that still owns them.
"We've seen a lot of tattoos of Rooney's face with his fat cigar on people's bodies, which is really, like, an interesting tattoo choice," Suparak said. "I doubt fans of other teams have the owner of the team tattooed on their bodies."
Many fans, including Roland Coston-Crisswell, the funeral director who prepared James Henry Smith's viewing, firmly believe they're rooting for a way of life and, to many Steelers fans, it matters that they're rooting largely for athletes drafted and developed by the team, as opposed to high-priced free agents brought in to "buy" a championship.
"Steelers culture is about doing the right thing, about having a traditional outlook in a nontraditional world," Coston-Crisswell said. "It's the Rooneys slow-cooking the team like stew instead of popping it in the microwave like (Dallas Cowboys' owner) Jerry Jones and trying to have success instantly."
Rubin and Suparak believe many fans are making a "creedal statement" about life when they root for the team.
Rubin believes it falls "somewhere between fandom and religion, and I don't mean that in a coy way. When you think about rituals and superstition . it's really about cause-and-effect and the idea that my actions have some effect on something much greater than myself."
Bud Recktenwald knows all about rituals. The 69-year-old semi-retired auto body worker in nearby McKees Rocks is dubbed the team's "Ultimate Fan."
Recktenwald spends about five hours before home games tailgating with other fans, before he drives home to watch the games on TV. When he first became a big fan in the 1970s, he couldn't get tickets and - though he'll invariably be invited to a couple games a year at Heinz Field - he prefers to concentrate on the action at home. For away games, Recktenwald still drives around Heinz Field (blaring his horn and Steelers music from a loudspeaker) "two or three times" just so the team knows he still cares.
"Baseball never interested me. Hockey never interested me, tennis neither . I just more or less fell for the Steelers. They were the ultimate in my lifetime growing up with four Super Bowls (in the 1970s)," Recktenwald said.
Recognized by the Pro Football Hall of Fame (as part of a fan promotion once sponsored by VISA, the credit card company), Recktenwald marches in his wacky Steelers regalia in local parades, and makes various charitable and promotional appearances.
"I went down to a tailgating party once and it got into my blood," he said of his 1970s epiphany. "It drives me to do what I do for the Steelers."
Recktenwald's original Steeler car - a 1985 Dodge Colt tricked out in the teams colors and other details - is on display at the Western Pennsylvania Sports Museum at the Senator John Heinz History Center in Pittsburgh. The museum is displaying the Steelers' AFC Championship trophy with a special $7 admission - a numeric tribute to the team's quest for a seventh Super Bowl win - because the few hundred visitors the museum usually attracts each day will swell to a couple thousand thanks to the trophy, said co-director Ned Schano.
"Fans are looking for things, ways to celebrate and ways to get excited for the game, and most people can't afford to go to Dallas," Schano said.
"People talk about the 'good old days' well, these are the good old days for the Steelers. Three Super Bowls in six years? Fans in a lot of cities would kill for one Super Bowl in their adult lifetime," Schano said.
"When we have the (Steelers') trophies here, there are whole families who come decked out in Steelers gear and they take posed photos and use them for their Christmas cards," Schano said. "They want to show they're die-hard fans to everybody they send their Christmas cards to."
Be the first to know
Get local news delivered to your inbox!