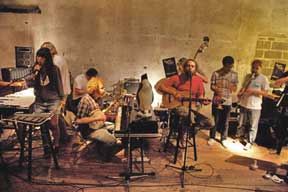 As any performer can tell you, the show must go on. And much to the relief of area art and music fans, the shows will continue for what looks to be a long time to come for the Harrisburg Midtown Arts Center, as it has secured funding to keep the bands playing at its Stage on Herr facility.
Reports of a sheriff's sale sparked considerable interest in the venue recently, but owner John Traynor has always maintained that the center's future as one of the area's premiere live music, arts, and performing venue was far from uncertain.
In fact, the recent publicity seems to have brought on a rally of support for HMAC, with crowds increasing in recent weeks.
This week, the monthly 3rd in the 'Burg event kicks off with a special exhibit by area native Danielle Charette. The artist, who works in oil as well as mixed media including custom made skateboards, murals and merchandise, has shown in galleries across the country as well as internationally. Locally, her distinctive work has gained something of a cult following, and has been featured in Gallerie 13 in Mechanicsburg as well as with Progressive Galleries.
Characterized by her trademark stylized depictions, Charette's paintings are evocative, often dark and always-compelling pieces inspired by life. As an artist she strives to convey emotions as she works with subjects involving love, heartache, humor and loss.
The exhibition at Harrisburg Midtown Arts Center is titled "2752 - It Is Always The Same" and is a series of works, she says, "In Honor of Those Who Perished Both Literally and Figuratively in the WTC and Other Attacks of 9/11."
The show will also feature works by artists Pat Maguire, Amanda Rife, Gary Bartlett and Tyler Yenna.
But the evening doesn't stop there. One of the area's premiere music venues, HMAC as always offers up its signature unique and hard to classify musical entertainment for the event.
For the January show, HMAC brings back psychedelic chamber folk ensemble Cuddle Magic for a return visit to the area after its successful show late last year. The group includes Harrisburg native Alec Speigelman along with a fluctuating group of musicians that usually includes some combination of several core members performing on a variety of acoustic instrumentation.
Hailing from Boston, New York and Philadelphia, the band is on a regional tour of club dates across the Northeast this month. The Friday show will mark its only scheduled visit for the Harrisburg area, so if you're after a truly unique experience, make your way to HMAC.
The group's music crosses genres, and is billed as crunk/psychobilly/tropical for this performance, but has also been described as having a contemporary, classical feel. What's certain is that the band's intricate rhythms and harmonies has audiences coming back for more.
Cuddle Magic will perform with The Joint Ventures, featuring Zach Bailey, Seth Dubin, Kevin Strawser and Scott Frenchek. Doors open for the show at 7 p.m.
The Harrisburg Midtown Arts Center's Stage on Herr is located at 268 Herr St. in Midtown Harrisburg. For more information, visit www.harrisburgarts.com.