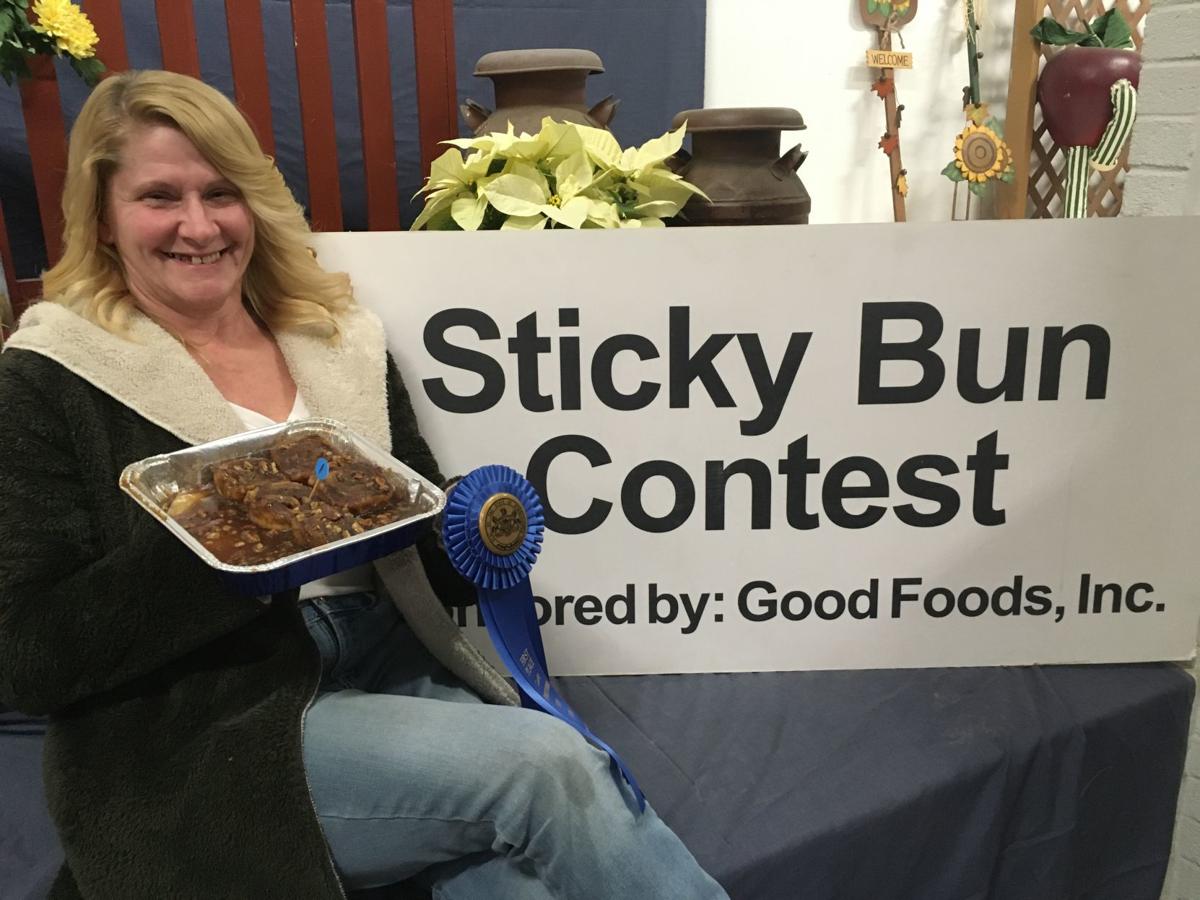 HARRISBURG – A Lehigh County woman who never baked with yeast until two months ago won the 104th Pennsylvania Farm Show sticky bun contest.
Terri Weiss of New Tripoli beat 19 other contestants from throughout the state to win the blue ribbon, $500 and bragging rights as the state's best sticky bun maker.
"This is the first time I ever entered the sticky bun contest," said Weiss, clutching the blue ribbon in disbelief. "I never baked with yeast before making sticky buns two months ago. I never expected to win."
She said she tried her recipe out on her Dad "who's really fussy," and he predicted that she would win first place.
Sticky buns are white-dough rolls with sticky sides and rich toppings such as brown sugar, nuts, butter and caramel. The gooey lining is at the bottom of the pan during baking, then the pan is inverted so the sticky part becomes the topping.
The Pennsylvania Dutch are credited with introducing sticky buns to the United States.
"Sticky buns are an ooey, gooey comfort food," said Diana Bissett, sticky bun contest coordinator. "I like mine with either coffee or milk."
The 20 entries in the contest, sponsored by Golden Barrel Baking Products, ranged from traditional sticky buns with and without nuts to those that included apples, cherries, maple, bourbon, peanut butter and more.
As the three judges tasted and evaluated, the contestants discussed their tasty entries.
"The secret of good sticky buns is be sure they are baked and not doughy," said Marie Miller of Mechanicsburg, who went on to win third place, a white ribbon and $50.
Miller said she had challenges, including oven problems beforehand and traffic so heavy on the way "that I got here only five minutes before deadline."
Diana Gossard of Elliottsburg made traditional sticky buns, using a combination of two family recipes.
"The secret of good sticky buns is to remember that if you kill the yeast, you kill the dough," she said. "So don't make the water too hot. Also use only brand name ingredients."
Jim Harper of Pennsylvania Furnace made traditional sticky buns with no walnuts or pecans, while his wife, Brenda, made "Super Sticky Maple Sticky Buns." She said sticky buns are all about the topping, which should be as gooey as possible.
Weiss said a good sticky bun is "ooey and gooey." Her "Ooey Gooey Maple Bourbon Pecan Sticky Buns" met that description.
"You need a good recipe," she said. "The maple give it a nice flavor. The bourbon gives it a kick." She said that just after she left her home to take her sticky buns to the Farm Show, a tractor trailer in front of her car stopped suddenly.
"I had to hit my brakes and my sticky buns flew to the floor from the passenger seat," she said. "Luckily, they were fine."
Other winners were Autumn Frank of Thompsontown, second place and $100; Marie Miller of Mechanicsburg, third place and $50; John Rauch of New Tripoli, fourth prize and a ribbon; and Krista Seibert of Allentown, fifth prize and a ribbon.
Here is Weiss' blue ribbon sticky bun recipe:
Ooey Gooey Maple Bourbon Pecan Sticky Buns
¼ cup butter melted in the milk
1 large egg at room temperature
Dissolve yeast and sugar in warm water. Set aside. Mix sugar, egg, milk, butter, salt and vanilla. Add 2 cups of flour and mix until smooth. Add remaining flour, one cup at a time, mixing well after each until dough is easily handled.
Knead dough on lightly-floured surface for 10 minutes. Place in lightly oiled bowl. Cover to allow to rise until doubled in size, about two to three hours.
When dough has risen, remove from bowl. Beat down on a floured surface. Roll dough into a 15 by 9 inch rectangle and spread filling over dough. Roll up. Use water to seal the edge before cutting into slices about 1 to 1 ½ inches thick.
Place buns in pan, about 1 to 2 inches apart. Allow to rise for 45 minutes. Heat oven to 350. Bake sticky buns for 25 to 30 minutes or until golden brown. Remove from oven. Pour remaining topping over buns. Allow them to sit for five minutes, then flip onto serving tray with pecan side up.
6 tablespoons melted butter
3 tablespoons maple syrup
Just before rolling out dough, melt butter and add remaining ingredients. Mix until smooth. Spread evenly over dough. Roll up.
1/8 cup bourbon of choice
3 tablespoons heavy whipping cream
Melt butter. Add brown sugar, syrups and bourbon. Heat until bubbly and remove from heat. Add heavy cream and mix well. Put pecans in pan. Pour syrup over pecans and place buns in pan.
Stay up-to-date on what's happening
Receive the latest in local entertainment news in your inbox weekly!