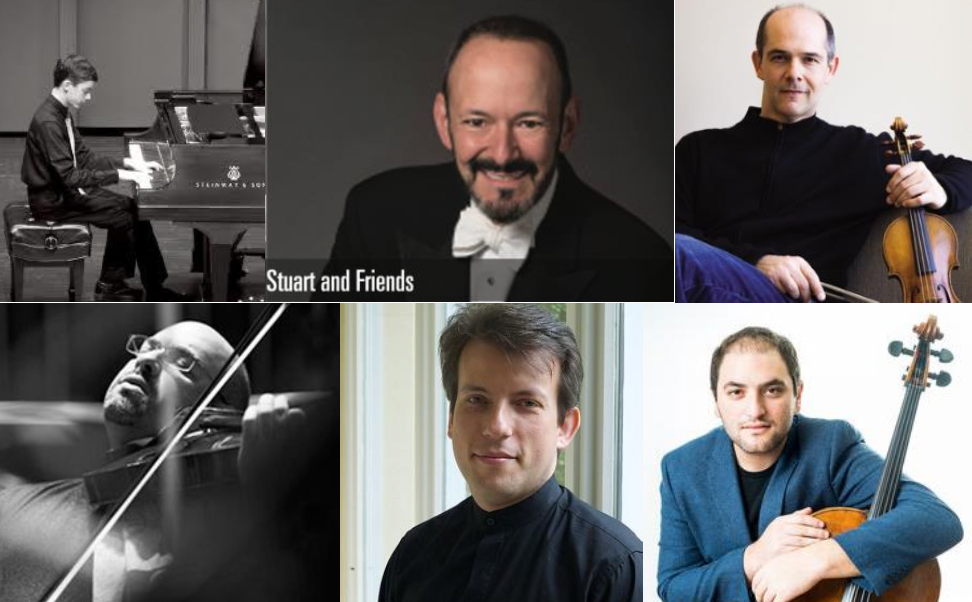 Market Square Concerts will conclude the 2020-2021 season on Wednesday, April 28 at 7:30 p.m. with a program that features Stuart Malina, concert pianist and music director of the Harrisburg Symphony Orchestra. Malina will be joined by an impressive collection of musical friends including violinists Alexander Kerr and Peter Sirotin, violist Michael Isaac Strauss, and cellist Julian Schwarz.
The concert will be held in the Sunoco Performance Theater of the Whitaker Center for the Science and the Arts, located at 222 Market St., in Harrisburg. Tickets are $35, with discounts for seniors and college students. School-age children can get in for free with a $10 ticket available for one accompanying adult. To purchase tickets, visit MarketSquareConcerts.org or call 717 221-9599.
To help assure the safety of concert-goers, Market Square Concerts follows strict live concert safety protocol requiring that all guests, ushers and staff wear a mask while in attendance, as well as maintain 6-foot social distancing. Market Square Concerts requests that those who feel unwell or have been in direct contact with someone suspected to have COVID-19 within the past two weeks to stay at home and not attend.
The program includes Wolfgang Amadeus Mozart's Sonata for Piano and Violin in B-flat Major, Ernest Bloch's Suite Hébraïque for Viola and Piano; Erich Wolfgang Korngold's Much Ado About Nothing suite arranged for cello and piano by Julian Schwarz, and Piano Quintet in E Major. As part of Market Square Concert's Young Artists Program, Zev Malina, Malina's son, will play the premiere of his composition Schemin' an homage to American composer Zez Confrey on the piano.
Violinist Alexander Kerr may be a familiar name to some since he has been a soloist with the Harrisburg Symphony Orchestra on several occasions during recent years. Aside from maintaining a busy concert schedule appearing with orchestras and in recital and chamber music performances throughout the U.S., Asia and Europe, Kerr is concertmaster of the Dallas Symphony Orchestra and professor of violin at the Indiana University Jacobs School of Music.
Violinist Peter Sirotin is the concertmaster of the Harrisburg Symphony Orchestra and violinist with the Mendelssohn Piano Trio, which he co-founded with his wife and pianist Ya-Ting Chang. He is also co-director of Market Square Concerts and is on the faculty at both Messiah College and the Levine School of Music.
Violist Michael Isaac Strauss has performed around the world as a soloist and a recitalist. He has served as principal violist for the Indianapolis Symphony Orchestra for the past 20 years, and also performs in the Indianapolis Quartet and the ProMusica Chamber Orchestra. Strauss serves on the faculty of the Dana School of Music at Youngstown State University and the University of Indianapolis.
Cellist Julian Schwarz made his U.S. touring debut with the Moscow Radio Symphony Orchestra and has been awarded first prize at the inaugural Schoenfeld International String Competition. Along with his fiancée Marika Bournak, he also won first prize at the inaugural Boulder International String Competition's "The Art of Duo." Schwarz has an active career as a soloist and is an ardent supporter of new music.
Zev Malina started composing at age 11, and in 2014 he received his first Young Composer's Award of the Double Bass Coalition for his Double Bass Quartet, which he wrote for the Shenandoah Conservatory of Music. In 2017 and again in 2019, he won the Orlando Philharmonic Orchestra's National Young Composers Challenge for his compositions Dreamscape and Ballet for Fighter Jets. Schemin', an homage to Zez Confrey, is a short jazz rag reminiscent of the music of Confrey who was known as a novelty pianist.
Market Square Concerts produces an annual season of chamber music concerts, as well as a summer festival. For more information visit MarketSquareConcerts.org