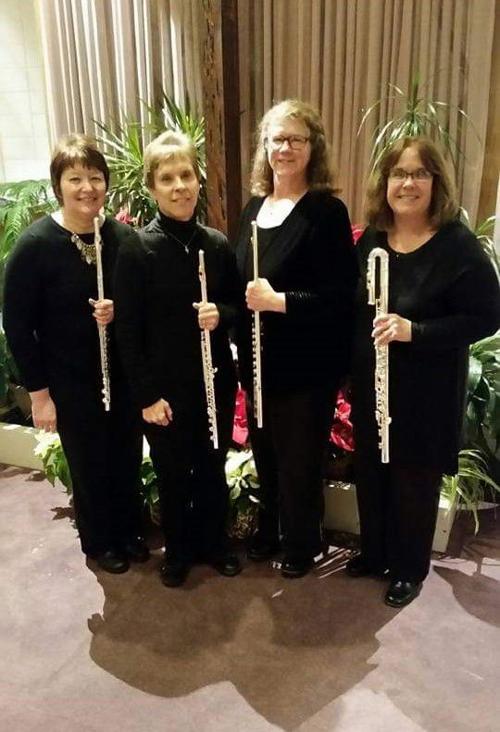 Many of us are missing the opportunity to hear live music, but one local organization has taken advantage of milder fall weather to plan an outdoor event.
Barring rain, the Carlisle Musical Arts Club will hold an outdoor concert at 3 p.m. Saturday, Oct. 10 in Pavilion No. 1 of South Middleton Township Park. The concert will feature classical and pop music played by select members of the Carlisle Musical Arts Club. The park is located at 534 Park Drive in Boiling Springs.
Performers will include a piano and flute duo featuring Lindy and Vicki Mack and Janis Glosenger; Two Flutes Squared featuring Sue Northey, Janeanne Wantz, Susan Miller and Lori Elliott; Beth Greenberg and Mark Swartz on clarinet and guitar; Craig Jurgensen on piano; and Mark Swartz on classical guitar.
The group has organized the concert in such a way to keep everyone safe during the COVID-19 pandemic. Performers will be masked and will sit socially distanced from each other and the audience.
Musicians playing wind instruments will use "wind-d-fenders," a device developed for flute players playing under windy conditions, which have been cleverly repurposed to limit breath projection. Additionally, a sound system will be used so that everyone can hear the music, even at a distance.
The public is asked to bring their own chairs and sit in their group at least 6 feet away from others. Because the weather may be cool, audiences are encouraged to bring sweaters or jackets. In the interest of safety, no refreshments will be served, and there will be no printed programs.
The Carlisle Musical Arts Club was founded nearly 100 years ago. The group typically meets October to May on the second Tuesday of the month at the YMCA in Carlisle where there is a room with two beautiful baby grand pianos. The meetings are salon-style gatherings where the club's some 40 members play for one another, as well as for relatives, friends and the general public.
Each month's program features solo musicians and ensembles performing a varied repertoire. They feature local professional and semi-professional musicians including Dickinson College music facility, local music educators and other accomplished players who look for the opportunity to play with musicians at a similar level. Because of concerns over the spread of COVID, the group's meetings are temporarily suspended, but they hope to resume in January.
Aside from monthly gatherings, the Carlisle Musical Arts Club typically hosts a public concert in an auditorium setting in the fall and also sponsors college scholarships. Their events are held free of charge.
The Carlisle Musical Arts Club is hoping for a clear, crisp fall day next to the Yellow Breeches for the concert in October, but in the event of rain, the concert will be canceled and no rain date will be scheduled.
Concerned about COVID-19?
Sign up now to get the most recent coronavirus headlines and other important local and national news sent to your email inbox daily.