alert
featured
editor's pick
Fall Brews: Cumberland County's craft beverage makers list autumn picks
The weather's turning cooler. The leaves are changing color. Hoodies and college football are back in season.
And the taps are changing out at craft breweries, cideries, wineries and distilleries in Cumberland County.
The Sentinel asked the businesses for their recommendations for the best drinks this fall.
Appalachian Brewing Company: Give Er Helles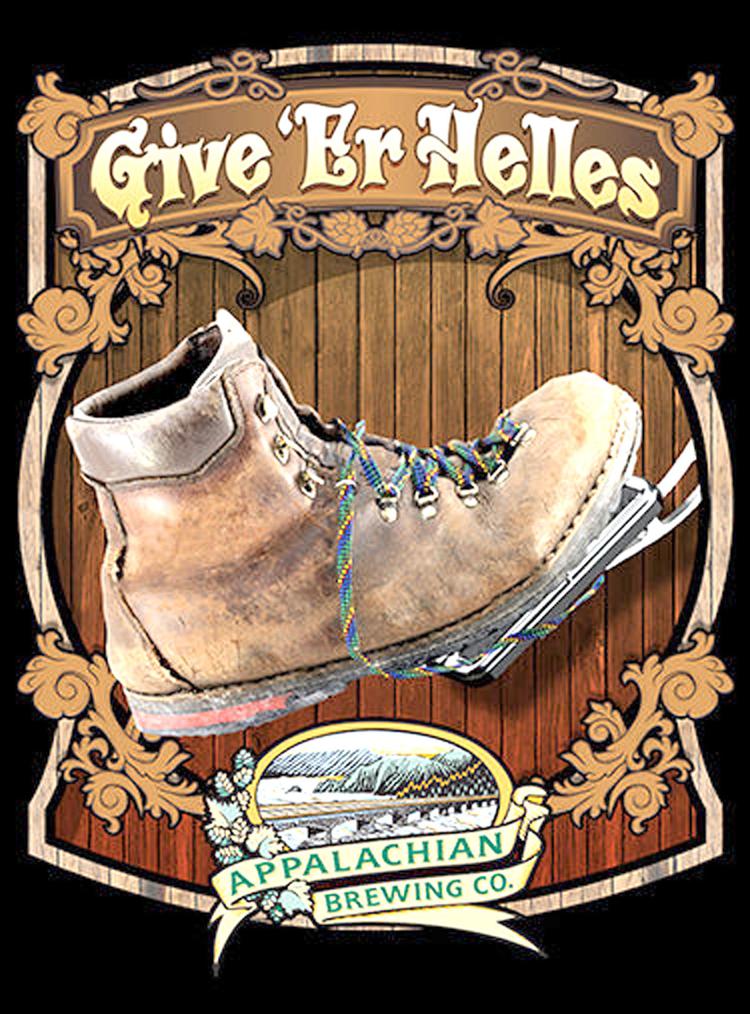 Appalachian Brewing Company: Give Er Helles
When is it available?
Sept. 16
Description: The Helles-style Lager was originally developed around Munich in the late 19th century by Bavarian brewers. Sometimes referred to as a "Munich Helles Lager," this classic beer is medium-bodied, slightly toasty, and has a brilliant golden color. "Helles" (which means "bright" in German) Lager was championed by the Spaten Brewery in 1894 and is now the most consumed type of beer at Germany's famous Oktoberfest in Munich.
Address: ABC has locations in Harrisburg, Mechanicsburg, Gettysburg, Lititz, West Chester and Shippensburg.
Shy Ronnie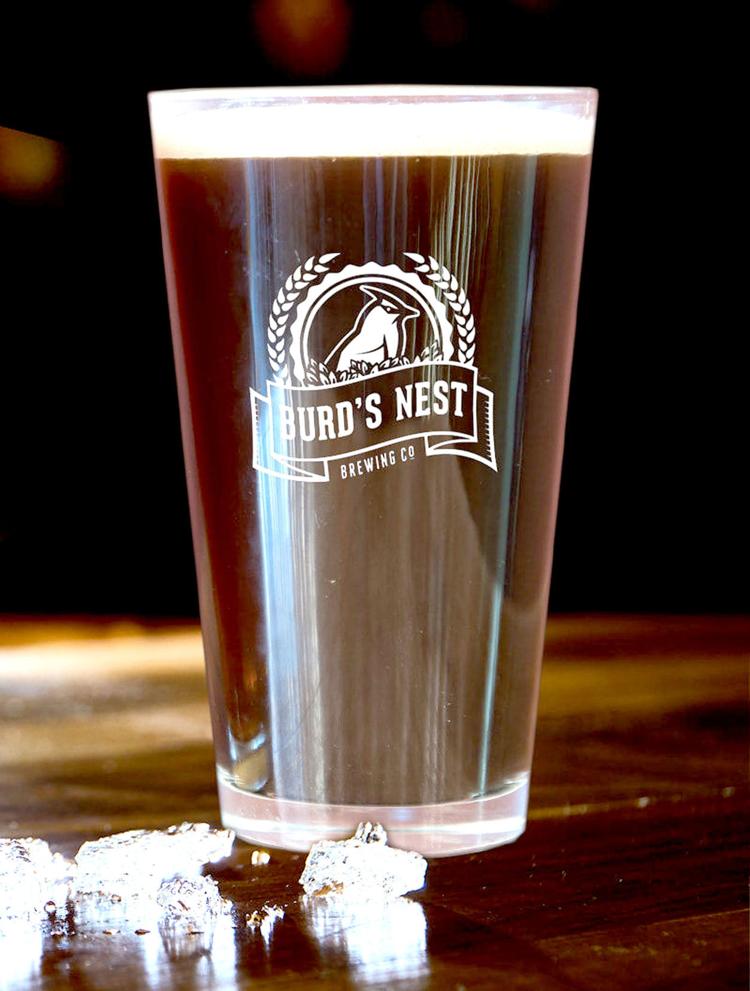 Burd's Nest Brewing Co.: Shy Ronnie
When is it available? Late October/Early November
Description: This non-traditional India Pale Ale has the malty body of a stout using lots of roasted and chocolate barely; however it's robustly hopped giving the beer subtle earthy notes along with pine and spice flavors.
What makes it great for fall? This is a great mid fall beer because of the dark roasted malts used with the hop combination. It gets you ready for spending time in front of a fire as leaves fall off the trees in the crisp autumn air and winter's head poking around the corner. Shy Ronnie has a lot of hints of coffee and chocolate with a subtle caramel note from the malts, but has a hearty hop balance to make this ale reminiscent of gentle summer days that we're leaving behind. The beer is the nickname of a friend who wanted to name one of his favorite beers when we first opened our brewery's doors to the community.
Address: 19 N. Hanover St., Carlisle
DTB: Oktoberfest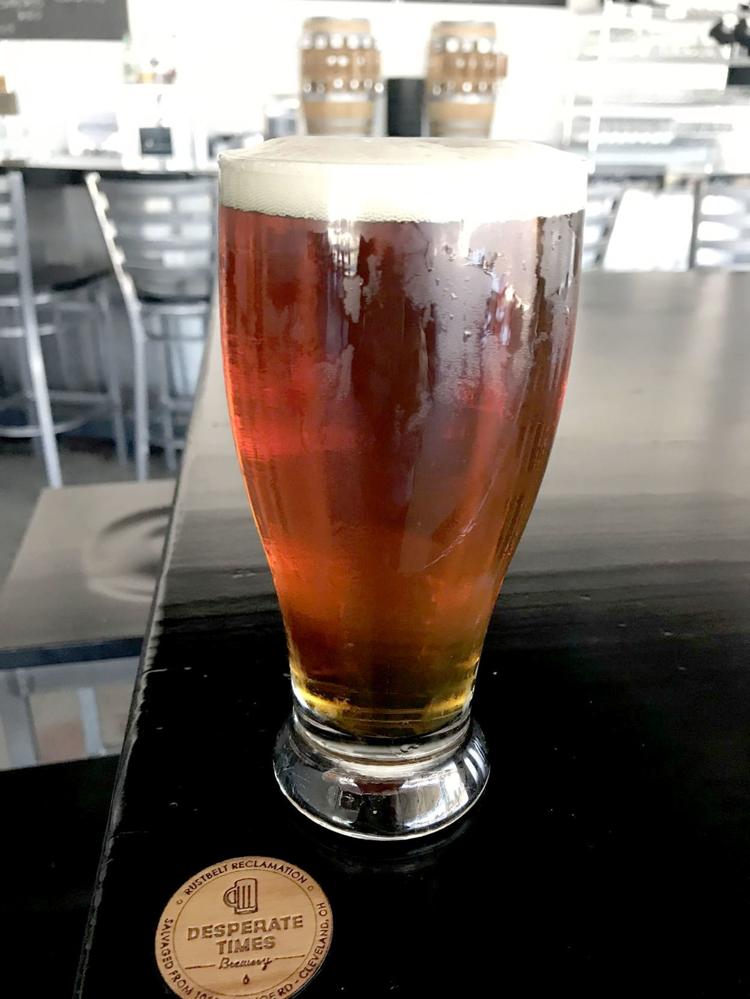 Desperate Times Brewery: Oktoberfest
When is it available? Now.
Description: Malty-rich lager that starts slightly sweet and finishes dry.
What makes it great for fall? Besides the Oktoberfest names that just screams fall, Desperate Times is donating $1 for every Oktoberfest sold to cancer research. Owner Susan Dunn said her mother died in February after a battle with cancer and she lost her grandmother to the disease. Husband and co-owner, Matt, lost his father to cancer, an uncle beat pancreatic cancer and one of his siblings is now dealing with a rare form of cancer.
Address: 1201 Carlisle Springs Rd, Carlisle
GIHC: Apple Butter Old Fashioned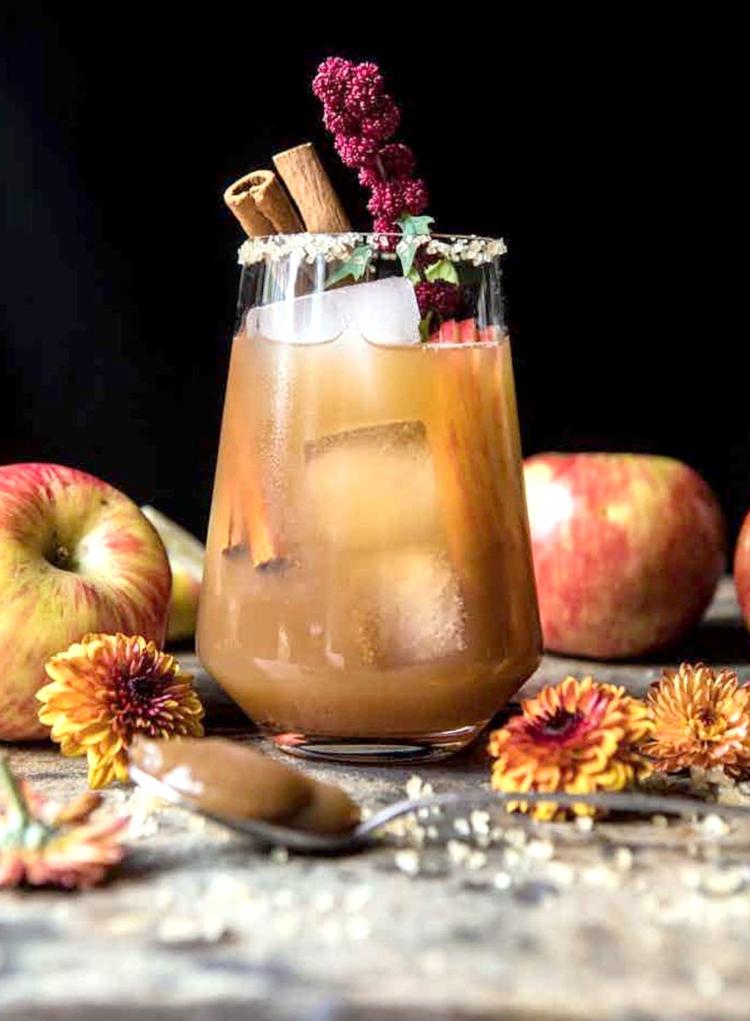 Grand Illusion Hard Cider: Apple Butter Old Fashioned
When is it available? Now.
Description: It is made with apple cider (of course), lemon, orange bitters, apple butter, PA distilled bourbon and garnished with cinnamon and sliced apples.
What makes it a great drink for fall? This drink is perfect for fall because of the apple cinnamon combination. Those flavors combined with the apple butter just makes you long for a slice of apple pie.
Address: 26 W. High St., Carlisle
H&F: Firemans Orchard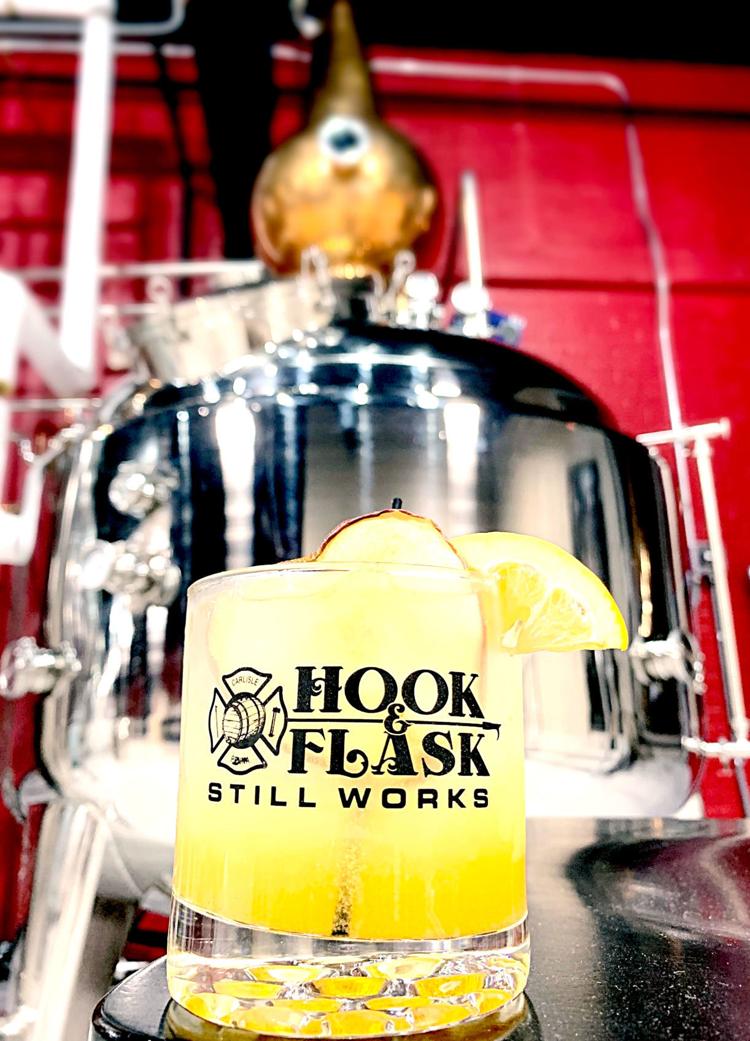 Hook & Flask Still Works: Fireman's Orchard
When is it available? October through beginning of December
Description: Flashover Apple Pie Moonshine, Caramel Simple Syrup, Lemon Juice, Club Soda
What makes it great for fall? This drink is the perfect mix of apple and caramel for sipping on a nice brisk fall day.
Address: 137 N. Hanover St., Carlisle
Jigsy's Brewpub & Old Forge Pizza: Blueberry Wheat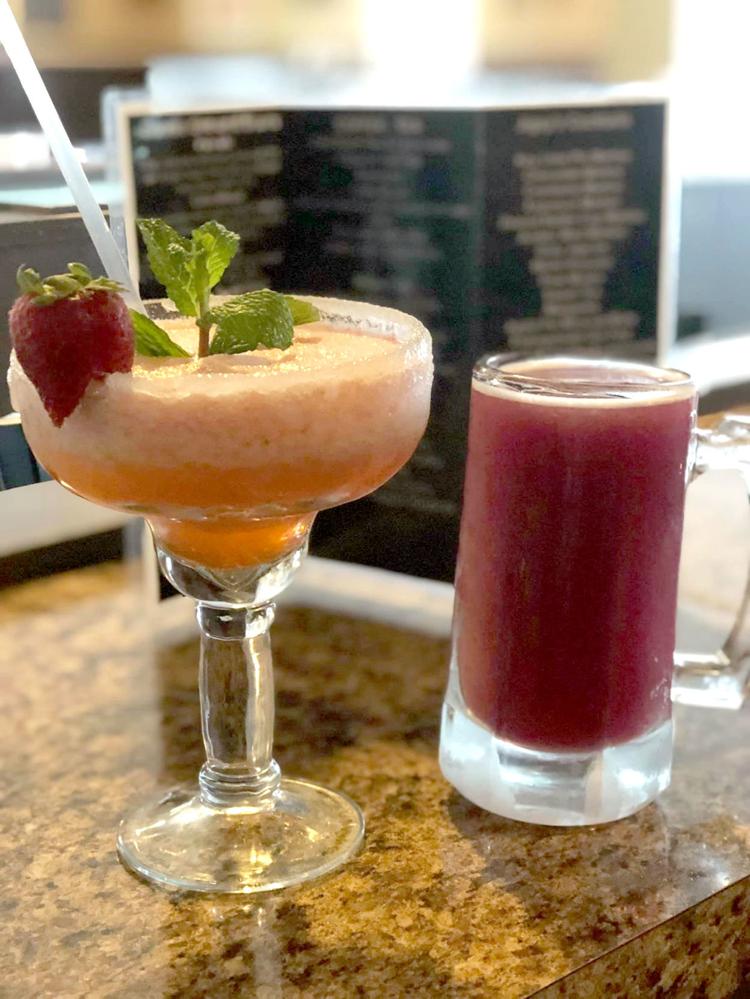 Jigsy's Brewpub & Old Forge Pizza: Blueberry Wheat
When is it available? Now until late October
Description: A seasonal mix of the fruits of summer and harvest of autumn.
Address: 225 N. Enola Rd. (Routes 11 & 15), Enola
Market Cross Pub: Sauferhaus Oktoberfest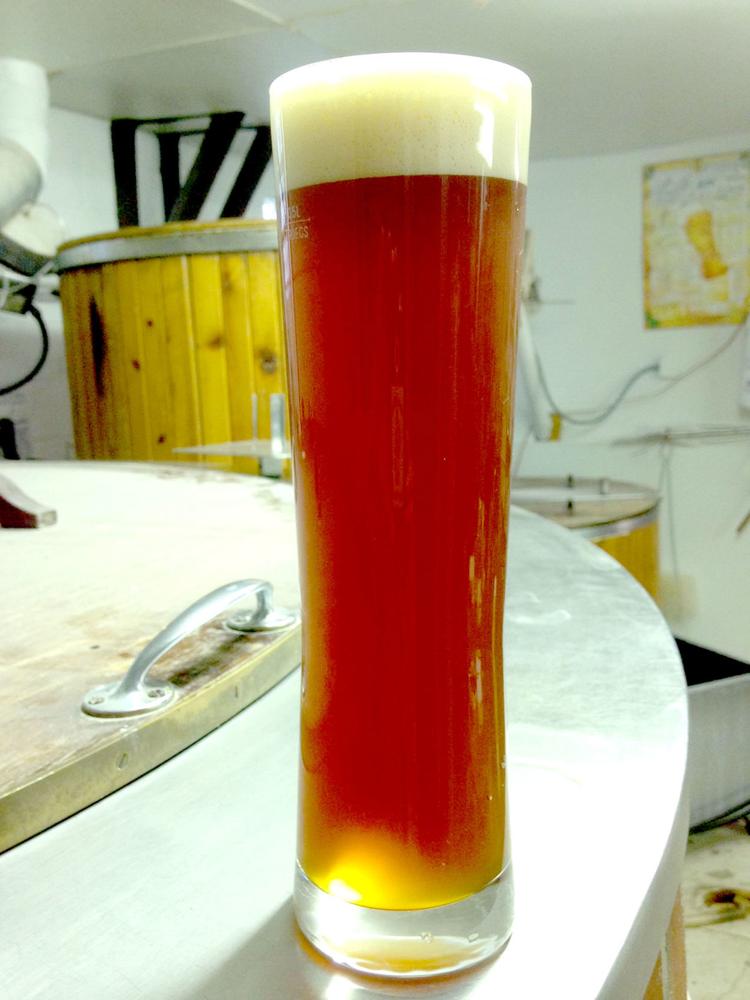 Market Cross Pub: Sauferhaus Oktoberfest
When is it available? Friday, Sept 27
Description: A traditional marzen-style oktoberfest lager, this deep amber beer comes in at a modest 5.8% alcohol by volume, and is dominated by a smooth, malty character balanced with subtle noble German hops.
What make it great for fall? It is the early fall tradition of Oktoberfest that is notably celebrated in the United States.
Address: 113 N. Hanover St., Carlisle
Molly Pitcher Brewing: Pumpkin Latte
When is it available? Now.
Description: Pumpkin beer brewed with pumpkin spices and lactose, and aged on whole coffee beans. ABV: 5% ABV 33 IBUs
What makes it great for fall? It is smooth, rich and creamy with a nice kick of coffee.
Address: 139 W. High St., Carlisle
Something's Brewing: Brewers, officials say Carlisle isn't tapped out yet on breweries
Carlisle brewers and tourism officials agree there's still room for growth in the borough's blossoming microbrewery scene.
"There's always going to be a threshold, a point at which it's saturated, given the population and exposure. But I don't think we're there yet, and I think we certainly could accommodate more growth," said Chad Kimmel of Grand Illusion Cider.
Kimmel, who has studied community development, said the demographics in Carlisle support these businesses with its mix of institutions like the Army War College, Dickinson College and Penn State Dickinson School of Law in town, and Shippensburg University a reasonable drive away. The local population's variations in age, generational preferences and education also support growth.
Geography plays a dual role in the rise of the breweries. On one hand, Carlisle is a self-sustaining community with "not much around us for miles," said Mike Moll of Molly Pitcher Brewing. That makes the borough a prime location for multiple breweries.
"There's plenty of beer drinkers in this community alone to support multiple breweries, and everybody loves to get behind their local brewery. It's a hometown pride kind of thing," Moll said.
On the other hand, the intertwining highways around town make it easy for visitors to access Carlisle.
"You're not just looking at local support from borough residents," said Jeremy Rhone of Rhone Brewing Company. "Carlisle is, and for the foreseeable future will be, a major crossroads in Pennsylvania that has tons of visitors in and out for all kinds of different reasons. I believe the craft beer scene here will blossom enough that that will become yet another reason to come to Carlisle."
Moll noted the diversity of the people who pass through the town throughout the year. People from all over the country come in during the shows at Carlisle Events. The U.S. Army War College brings in people from around the world, and corporations headquartered in the area bring in people from across their organizations for business meetings.
"It's primed to become a destination. Adding as many places that are going to pop up in the next year in our industry is really going to drive that. All of a sudden people will be coming three or four hours to Carlisle because there are five or six places to go," Moll said.
That's the philosophy behind the creation of Cumberland Valley Visitors Bureau's Cumberland Valley Beer Trail. The trail, unveiled in April, includes Carlisle breweries as well as locations in Chambersburg and through the West Shore into downtown Harrisburg.
"We definitely don't believe that we are tapped out certainly because of all the trends we've been seeing and everything we see in the tourism world outside of this area," said Kristen Rowe, communications manager of the Cumberland Valley Visitors Bureau. "People will travel for this kind of experience and they will go to multiple locations. That's what led to us putting together this Cumberland Valley Beer Trail."
More people are coming to the area for brewery tours and the brewing experience, and they are visiting multiple places, said Ashleigh Goss Corby of Market Cross Pub. Opening new breweries expands that experience.
"I looked at it more as a stepping stone to get more tourism here, and to get more of our locals to stay in our area rather than venture out into other areas to get the exposure to craft beer, wine or cider," she said.
The visitors' bureau has heard that people are discovering new places because of the beer trail, and Rowe said it was especially gratifying to hear that some of those people finding new places were local.
Demographics, geography and the potential to become a destination town aside, the reason behind the growth of microbrews in Carlisle may boil down to something more basic.
"Beer and food gets people. Don't overthink it," Rowe said.
Something's Brewing: Old favorites, newcomers shape microbrew scene in Carlisle
The 205 breweries in Pennsylvania produced more than 3.9 million barrels of craft beer in 2016, according to the Brewers Association. Or, to think of it another way, every Pennsylvanian over the age of 21 would have 12.9 gallons of craft beer at their disposal last year.
The boom that put the state first in the nation in beer production has been mirrored in recent years in Carlisle. A decade ago, one brewer existed in the borough.
By mid-2018, the borough will be host to five craft breweries and one urban cidery.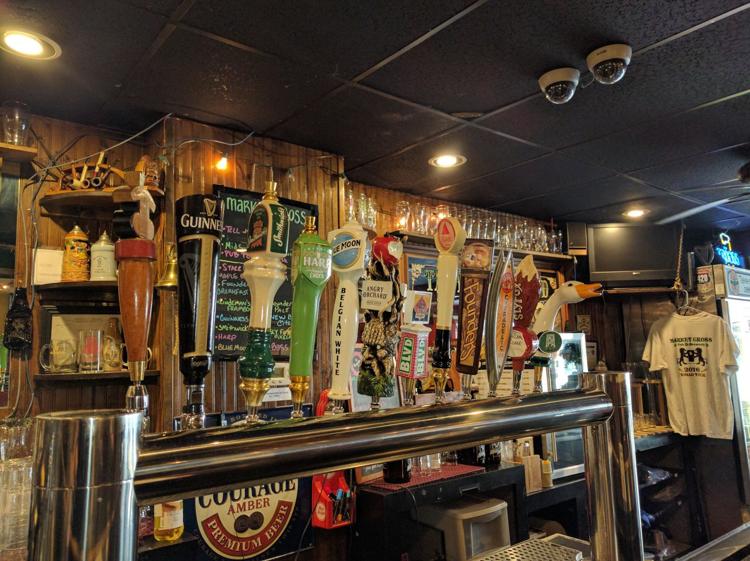 The legacy
When Market Cross Pub opened in 1994, it took a little convincing for people to try craft beer and imports.
"When we first started here, craft beer and imports were not cool yet. So, we were kind of the new guys in Central PA to bring them," said owner Ashleigh Goss Corby.
Back then, the pub was owned by Corby's parents, Jeff and JoAnne Goss. The couple turned to Carlisle's sister city in England — named Carlisle, naturally — to find a theme and a name for their restaurant. In the center of the city across the pond, there's a square called Market Cross Square that historically had been a gathering place. Its namesake pub has worked to be the same sort of gathering place here in Carlisle, Pennsylvania.
"It was only fitting to create a replica, in a sense of atmosphere, to what our sister city of Carlisle, England, has," Corby said.
The brewery connection started in 1999 when Market Cross contracted with Whitetail Brewing Co. in York. An open fermentation system brought over from England in 1933 was installed in a garage out back of the restaurant, bringing to life another part of the Goss' dream for their pub.
"My father and mother knew that they wanted to have a brewery here from the beginning whenever we opened the English pub. We just needed the space for it," Corby said.
Ultimately, Whitetail Brewing failed. Out of that failure, Market Cross had the opportunity to buy out the equipment and start Market Cross Brewing in 2002, more than a full decade before the next microbrewery would come on the scene in town.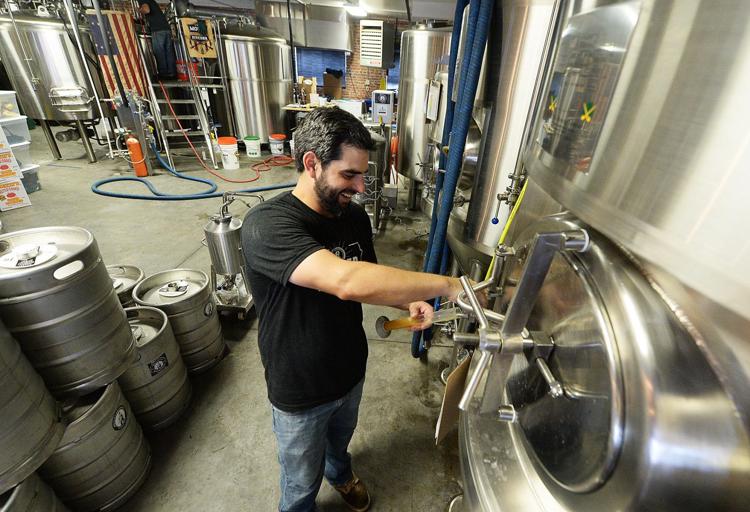 Trendsetters
In September 2014, an old garage became the unlikely setting for a new entry on the microbrew scene when Molly Pitcher Brewing brought a revolutionary theme to its new taproom.
"Being a Carlisle brewery with Molly Pitcher being such a renowned Carlisle heroine, it really was a good fit," said Mike Moll, operations manager at Molly Pitcher Brewing. "It was totally coincidental that we ended up beside the cemetery. We just found a space that was available, and it just happened to be right next door."
Next door is 10 E. South St. On warm days, the garage door is open, offering a glimpse of an often busy taproom and brewing tanks to passersby.
Moll met co-founder Zach Ziegler in 2013 through a mutual friend who owned a restaurant and was interested in brewing beer. That opportunity fizzled out, but Moll and Ziegler took the ball and ran with it.
Four years later, Moll and his co-partners, Brandon Bear and brewer Tim Fourlas, are working on moving the taproom to a new location and expanding the brewing capacity at its current location.
"We came to market pretty fast as far as getting a small business up and running, and our success has come a lot faster than we expected it," Moll said. "Our business plan never put us this far ahead of the game in three years of being open."
Moving to a new location addresses some of the limitations of the current taproom, like its finicky air conditioning and single bathroom, while keeping the taproom's identity and the vibe to which its core customers have become accustomed. Moll is confident the new Molly Pitcher digs will match or exceed what they have now.
"We've learned a lot as we've grown over the three years as well to know what to take with us and what to leave behind," he said.
The new location is expected to open in the first quarter of 2018.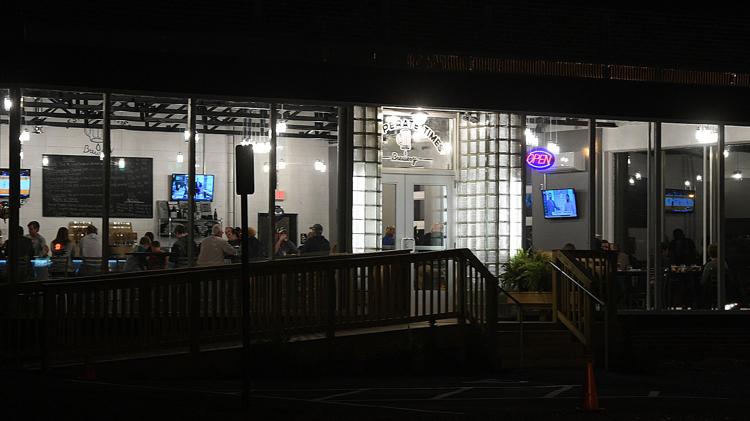 Across town, Matt and Susan Dunn have taken their visual identity from a later period in American history, though the origins of the name Desperate Times hit much closer to home.
"The actual meaning behind Desperate Times came from 2008 when we lived in Florida, and Matt lost his job due to the downturn in the economy," Susan said. "He was in land development. We had to move, and, for us, it was desperate times."
A graphic artist added the prohibition-era look that has become the trademark of the brewery.
The Dunns put more than six years of planning and education into the preparation for opening of their brewery at an old John Deere dealership next to the Carlisle Fairgrounds in November 2016.
Matt added onto skills developed while home-brewing with classes at the Siebel Institute in Chicago as well as at the American Brewer's Guild in Vermont. A beer industry consultant helped the couple with their business plan, and the concept of a brewhouse was born.
It's hard to imagine how Desperate Times might have worked out if it had moved into the location it had originally pursued.
"We had a developer for two years who was going to buy the Tyco building right down the road, and he pulled out about a week prior to closing. So he called Bill Miller Sr. from Carlisle Events and asked him if he knew anybody, and that's how we got this building," Susan said.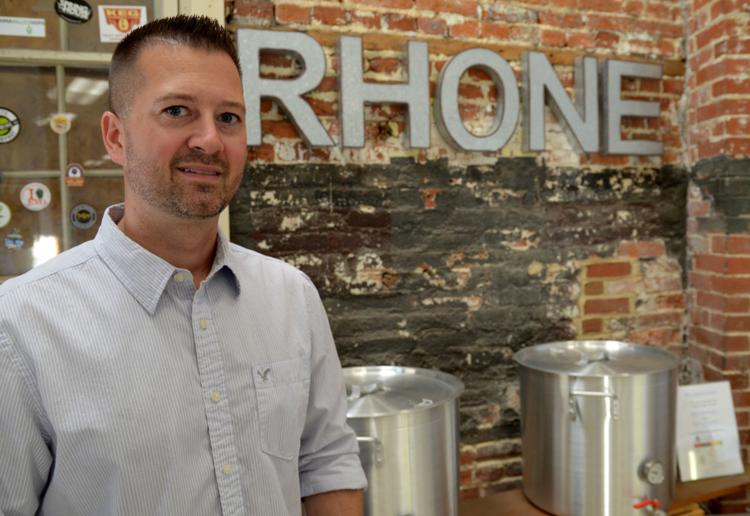 The one in between
Somewhere between the three established breweries in the borough and the two establishments planning to enter the market in the near future is Rhone Brew Company at 419 E. High St.
Owner Jeremy Rhone started as an amateur winemaker and, two years later, decided to try brewing beer. The hobby quickly grew into something bigger, and, in May 2016, he opened a store offering supplies for homebrewers, winemakers and smaller breweries.
"The store also offers the area's only brew-on-premises station, which is where the customer can book an appointment to come in and run our brew on premises system in the back so they can make their own beer," Rhone said.
A taproom is planned for the site, but that project is behind schedule. In the meantime, Rhone has been building a following for about two years on social media and in person by attending beer festivals and participating in nonprofit events and fundraisers with his own specialty brews.
A look at their Facebook page shows just how busy Rhone and company have been at fundraisers for veterans, the Arc of Cumberland & Perry Counties and Project SHARE, among others. Facebook is also the primary way he keeps people up to date on the construction of the taproom. That kind of exposure is key to being successful when the taproom does open, and it helps Rhone zero in on the beers that are most popular among his fans.
"We have people that constantly stop in here because they are hoping the taproom is open," Rhone said. "They have heard people talk about our beers. We have people that follow us to the different events that we go to in order to get our beers."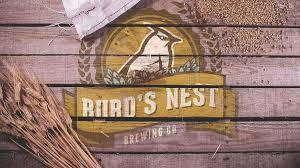 Newcomers
As 2017 enters its last quarter, craft beer connoisseurs will have two more options in town, one of which introduces the latest trend in the beverage industry.
Graffiti mars the walls of the former Carlisle Arts Learning Center at 19 N. Hanover St. thanks to some kids who had found their way into the building while it was vacant, but Dave Hamilton looked beyond it to see the future of Burd's Nest Brewing.
Overall, Burd's Nest will have a modern industrial look. The front area will have a coffee shop feel that will be inviting enough to entice people who are walking down the street to come in. Progressing back the hallway, Hamilton points out where the brewing tanks will be located behind glass but still in full view of the guests at a minibar.
The back of the long building will be a bit of a fun zone.
"You'll be able to play corn hole. We're trying to source some old-school arcade games," Hamilton said.
Burd's Nest is working sustainability into its business plan. Tables and posts will be fashioned from scrap metal and the corrugated metal planned for the walls will come from a recycling plant.
"Our goal is to have everything completely done renovationswise so when the equipment comes in, we'll just be able to start brewing," he said.
At the moment, Hamilton is brewing on a small system out of a garage in Gardners, but has been working on getting his beers into the public arena since 2014. His first attempts at brewing came in 2013 when he was trying to figure out what to do after college.
"I honestly just didn't know what I wanted to do. Coming out of college, I had a friend that worked at Roy-Pitz down in Chambersburg. Obviously, as a college kids, we liked beer so that was kind of the attraction. It was just beer," he said.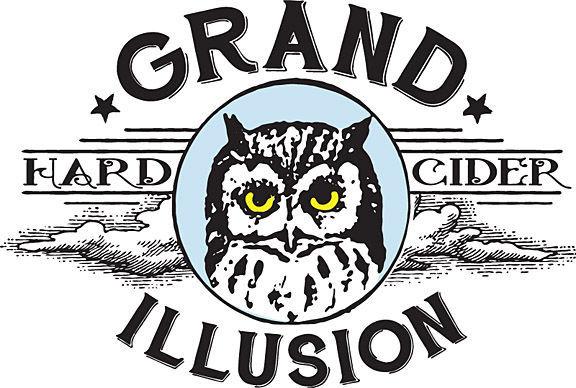 Chad Kimmel, on the other hand, has been working on his plans for Grand Illusion Hard Cider, which will be located at 26 W. High St., for some time.
"This has been an idea that has been fermenting since 2009," he said.
He learned about the wine industry in a program at Harrisburg Area Community College, and had the idea to open a winery.
When hard cider started to rise in popularity, Kimmel looked at cider's relationship to wine, his own abilities and interests and the resources of the region given its proximity to Adams County and its world-class orchards.
"I thought, 'Well, this is kind of a no-brainer,'" Kimmel said.
Kimmel said his hard cider production company will be licensed as a winery, and should be awarded in early October. Cider will be fermented, kegged and bottled onsite with juice from producers in Adams County based on specified recipes.
In addition to 15 ciders on tap, Grand Illusion will feature five Pennsylvania craft beers and four or five craft cocktails made from Pennsylvania distilled spirits.
The theme for Grand Illusion is inspired by turn-of-the-century magicians, and the decor will reflect the grandeur, colors, mystery and allure of Victorian-era magicians. Kimmel, though, has a more colorful way of describing the look for which he is striving.
"It will be like the Munsters meet Edgar Allan Poe and Johnny Depp from Alice in Wonderland," he said. "We really want to produce a great product, but also give customers an incredible experience, one they haven't had before."
What's next
The cideries concept, particularly featuring ciders on tap, is on the upswing.
"It's certainly gaining in popularity. Cider bars are growing dramatically. Less than a year ago, there were only a handful throughout the United States. Now, I've kind of lost count," Kimmel said.
But, what can Carlisle expect after cider?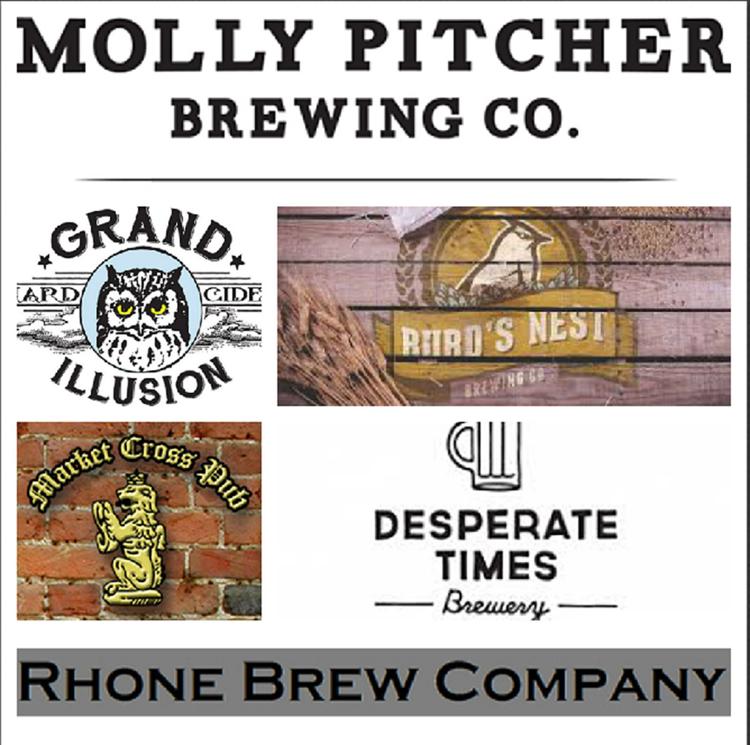 Microbrewery owners looked almost unanimously to one potential answer.
"I'm sure within a year or two or three years time, there's going to be a distillery downtown," Kimmel said.
There are two distilleries in the region. Gettysburg's Mason Dixon Distillery opened in July 2016, and features rum, vodka and whiskey. Midstate Distillery opened Harrisburg's first distillery since Prohibition in January 2016 at the former Smith Paint building on Cameron Street. Midstate also produces rum, whiskey and vodka, including its Iron & Ice Vodka which is named after the Walnut Street Bridge that was partially destroyed in 1996.
"Distilleries are going to be the next one. I've already seen that come up. That's kind of popping up in more populated areas. I wouldn't be surprised if I saw something coming through the line in this area," Corby said.
What follows distilleries, though, is anybody's guess.
"Once you add something like a distillery to this area, you can't ask for much more. You have everybody's bases covered from a craft product perspective," Moll said.
"What other type of alcohol is there? What other vice can people do?" Corby asked with a laugh.