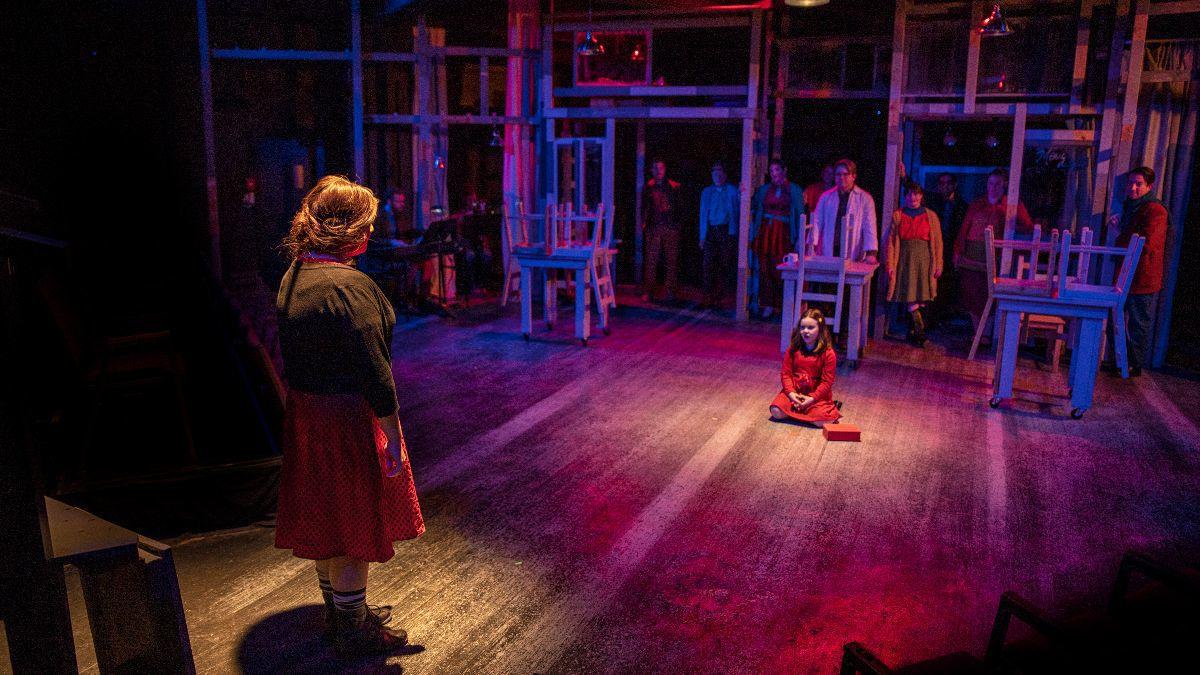 Amelie Poulain is a shy waitress in a French cafe, but she dreams big.
Her dreams are not selfish, though. Rather, the kind-hearted young woman aspires to be an anonymous do-gooder who helps others.
That's the premise for "Amelie the Musical," which is on stage at Open Stage through March 8. The regional premiere, directed by Open Stage Artistic Director Stuart Landon, is based on "Amelie," an Academy Award-nominated French film from 2001.
The musical version, featuring music and lyrics by Daniel Messe (of New York City indie band Hem) and Nathan Tysen with a book by Craig Lucas, did not find much traction on Broadway in 2017, closing after 56 regular performances when several critics complained that the loopy show was a little heavy on wackiness and a little light on focus.
But international productions of "Amelie" continue to sprout, and the show's infectious optimism may find a more accepting audience in regional American theaters such as Open Stage.
"Amelie the Musical" features mature language and props. It is not recommended for children ages 10 or younger.
First regional production
Women's connection to — and sometimes obsession with — clothing has often been the stuff of comedy.
In "Love, Loss and What I Wore," noted Ephron sisters Nora ("Sleepless in Seattle") and Delia ("The Sisterhood of the Traveling Pants") collaborated to weave fashion and wit into a fast-moving stage show that tells important stories about women at different stages in their lives.
Starting Thursday and continuing through Feb. 23, Hershey Area Playhouse will offer the first central Pennsylvania production of this popular play, which has been running Off-Broadway for more than a decade.
You have free articles remaining.
Based on a 1995 novel of the same name by Ilene Beckerman, "Love, Loss and What I Wore" uses monologues and ensemble pieces to look at mothers, prom dresses, buying bras, hating purses, wearing black and even Madonna.
"This show highlights the obsession women have with their wardrobe," director Jennifer Feldser said. "It features women at various ages, recalling a significant event or emotional memory linked to an article of clothing. Nora and Delilah Ephron stitched together 28 vignettes, so unique, yet so familiar to so many women."
HAP's ensemble cast features 11 women and a pint-sized puppy named Finnegan. The production is dedicated to George Nye, a founding member of the Playhouse who died in November at the age of 76.
Midstate comedy
Award-winning playwright Ken Ludwig is always good for a laugh.
With "Leading Ladies," which takes the stage at Allenberry Playhouse later this month, the York County native sticks close to home both in terms of style and geography. Ludwig uses his home turf as the setting for this 2004 comedy, which features the door-slamming trappings of classic French farce and adds an Amish twist.
"Leading Ladies" follows the escapades of two down-and-out Shakespearean actors who have been reduced to doing scenes from the Bard's works at a Moose Lodge in Pennsylvania's Amish country.
So the pair can't resist when presented with a chance to fool an ailing, yet rich old woman into thinking they are her sister's long-lost children, who are in line for a big inheritance. The plan begins to unravel when they discover that the grown children, named Max and Steve, are actually Maxine and Stephanie, necessitating a last-minute switch to drag for the two men.
Things only get more complicated with news that the real missing heirs are on their way to their aunt's home.
Allenberry's production opens Feb. 21 and continues through March 1.
Ludwig has created a series of Broadway hits during the past three decades, including the Tony Award-winning "Lend Me a Tenor," "Moon Over Buffalo" and the Gershwin-inspired "Crazy for You," which earned a Tony for Best Musical.