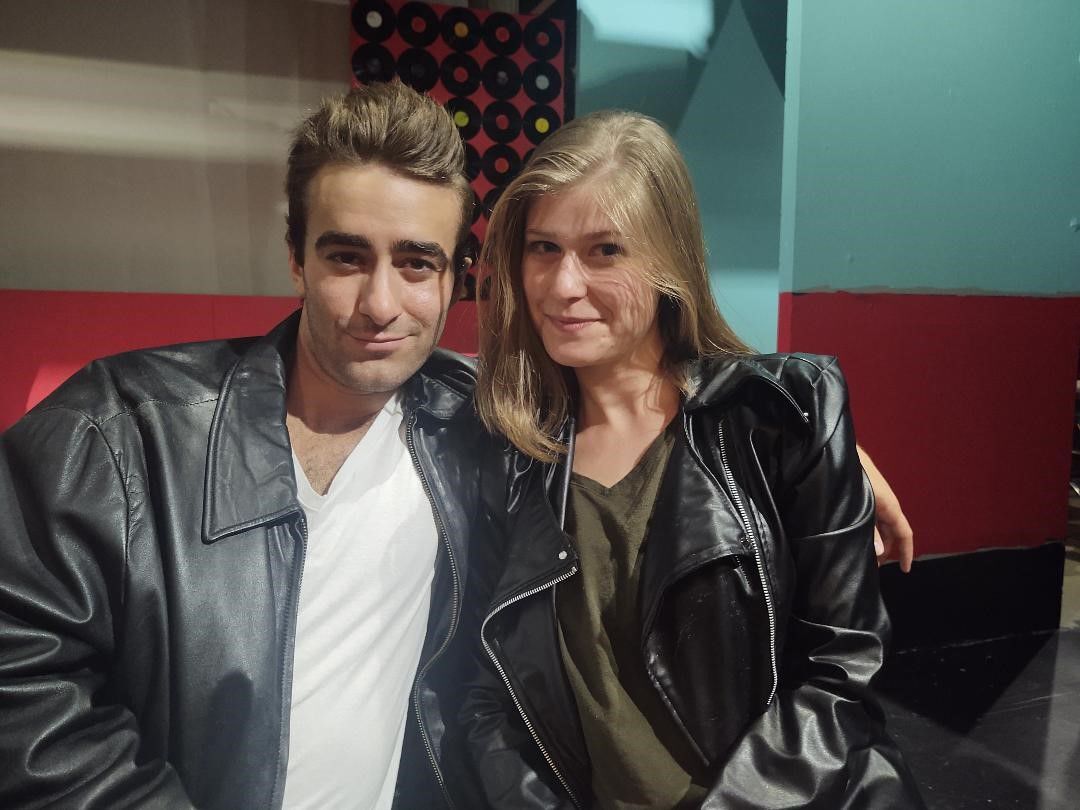 When actors take the stage next week for the opening of the musical "Grease" at Allenberry Playhouse, social distancing and mask wearing will no longer be part of the show.
"All restrictions have been lifted here," said Dustin LeBlanc, executive director of Keystone Theatrics, the theater company that stages shows at the long-running playhouse in Boiling Springs. "We are doing normal rehearsals with a cast of 15, and we are operating at full capacity for the audience. This will be the first full-scale musical we have done since the pandemic began."
Allenberry did a small-cast musical, "The Marvelous Wonderettes," in June, but that still featured a number of COVID-19 restrictions mandated by the state.
LeBlanc said some procedures developed over the past year will remain in place because they make sense. That includes giving actors more personal space off-stage and minimizing contact with communal items such as props. Still, he said, "this (production) feels a lot more like normal."
In addition, Allenberry plans to limit two (July 22 and 30) of the 15 performances of "Grease" to 50% capacity for people who don't yet feel comfortable in a more crowded theater. But there will still be no mask mandate.
LeBlanc, the former artistic director for Carlisle Theatre Company before leaving for Allenberry a few years ago, said he plans to stick around as head of Keystone Theatrics despite accepting a full-time job as managing director of West Shore Theatre in New Cumberland.
West Shore Theatre, a second run movie house that closed four years ago, is undergoing a $2 million renovation with a target reopening in spring 2022. Plans call for a mix of entertainment, including films, music concerts and comedy shows.
"I don't want to stop working with Keystone," said LeBlanc, who will officially begin the West Shore position on Aug. 1. "I don't anticipate it being too bad. Could be famous last words, I know."
Meanwhile, a new season rolls on at Allenberry.
"Grease" is a well-liked '50s style rock 'n' roll musical centered on mismatched lovers Danny and Sandy at mythical Rydell High School. The show, created by Jim Jacobs and Warren Casey, ran on Broadway from 1971 through 1980, closing with a then-record 3,388 performances. It also was turned into a hit movie in 1978, starring John Travolta and Olivia Newton-John.
Teen pathos and catchy tunes are the formula that drives "Grease," with a song list that includes "Summer Nights," "Greased Lightnin'" and "Look at Me, I'm Sandra Dee."
Allenberry's production, which runs from July 16 through Aug. 1, is directed by Travis Pierce.
LeBlanc said "Grease" may be just what the doctor ordered as the country emerges from a pandemic-induced shutdown. "The first weekend is nearly sold out already," he said. "I think it's the kind of show people are looking forward to seeing. It's pure fun."
Hair band salute
Hershey Area Playhouse also returns to the stage — its own, of course — for the first time since early 2020 with a production of "Rock of Ages," a jukebox musical salute to the so-called hair bands of the 1980s, including the music of Styx, Night Ranger, REO Speedwagon, Twisted Sister, Poison, Journey and Pat Benatar.
"I can't think of a better way to reopen Hershey Area Playhouse than with 'Rock of Ages,' a raucously addictive and indulgent celebration of '80s rock at its best," show director Jasmine Bucher said. "Audiences are in for a rare treat as this ridiculously talented group of performers rocks the roof right off the playhouse."
HAP's production, which opens July 22 and runs through Aug. 1, features an all-volunteer cast of 30 performers ranging in age from 18 to 60.
The original Broadway musical, developed by Chris D'Arienzo, ran for 2,328 performances before closing in 2015. It has since become a staple on stages worldwide, although not lately due to the pandemic.
One of the shows notable features is that performers sometimes break the "fourth wall" and address the audience directly. The admittedly thin plot revolves around a busboy at a Hollywood nightclub who is waiting for his big break as a rock star. He meets an aspiring actress named Sherrie, fresh off the bus from Kansas and sparks immediately fly.
The important thing, though, is the stream of rock tunes that serve to underline a variety of plot points. For those who remember the '80s, the flood of toe-tappers is sure to bring back many youthful memories, but these are songs that have survived their time period and are still familiar to practically any rock fan.
HAP's up-to-date script even features a new song.
Carole King
Iconic music is also on tap at Open Stage, but this show is about one classic album that continues to reverberate 50 years after its release.
"Carole King's 'Tapestry' Live" will feature the entirety of King's 1971 album, a collection of unforgettable songs that includes "It's Too Late," "So Far Away" and "I Feel the Earth Move." The album, which has sold more than 25 million copies since its release, won Grammy awards for Album of the Year, Record of the Year, Best Pop Vocal Performance by a Female and Song of the Year for "You've Got a Friend."
Open Stage's production, which opens Friday, features local singers Carly Lafferty, Stacey Werner and Rachel Landon, with a four-piece rock band led by Nicholas Werner.
The show runs through July 30, with the final performance being an outdoor show at 7:30 p.m. in Harrisburg's Italian Lake Pavilion on Third and Division streets.