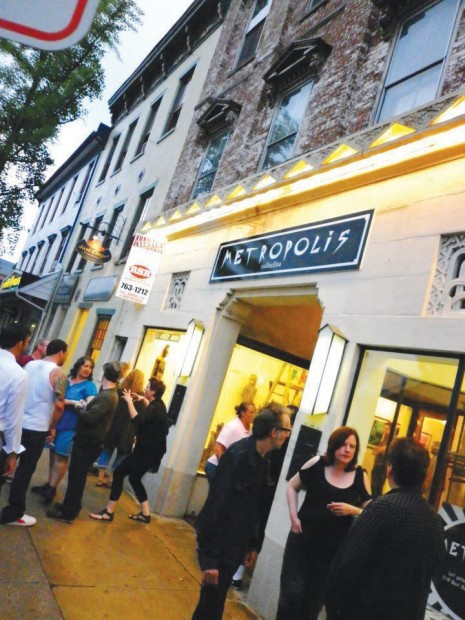 Summertime rages on with a packed events calendar here in Central Pennsylvania. With a full schedule of art, music, and those staple seasonal festivals, there are plenty of good times scheduled before Labor Day. As we enter August, look for these top picks for late summer fun.
Art — Metropolis Collective
West Shore's newest entry on the art scene, Metropolis Collective, offers their second art showcase, "Sex, Drugs. And Rock-n-Roll" at the Trash Art Gallery. The event also marks the debut of the Metropolis Collective's latest addition, the Hole In The Wall Art Gallery and its premiere exhibit, "Maniacal Vinyl," displaying a group show comprised of creations made on and of vinyl records. Musical artist "Nefarious Dub" featuring Zach Rudy and Ryan O'Hara spinning wax will perform. In the main gallery, look for a series of works by national and internationally renowned artists Rick Prol, Paul Kostabi, Leigh Cooney, Mike Egan, Joseph Arthur, Mark May, Hucklebuckle Boys, Sophie Lo, Gaye Black, Danielle Charette, Casey Gleghorn, Liz Parrish and John Carruthers.
The evening closes with a performance by NYC-based band "Damn Kids" featuring Paul Kostabi of White Zombie, Youth Gone Mad, Psychotica and the Dee Dee Ramone Band along with Al Landess, Dave and Ned Lindsey delivering live rock-n-roll in the collective's second debut offering, The Stage Noir.
The Metropolis Collective is located just off the square at 17-19 W. Main St. in downtown Mechanicsburg. For more information, visit www.metropoliscollective.com.
Music — Sunset Artist series
Dauphin County Parks and Recreation kicks off late summer events this weekend with their ongoing Sunset Artist series at historic Fort Hunter Mansion and Park. On Sunday, July 29, the featured artist will be Grammy award-winning singer-songwriter Gordon Chambers. He has penned hit songs for an impressive list of music legends including Anita Baker, Beyonce, Usher, Brownstone, Whitney Houston, Aretha Franklin, Yolanda Adams, Patti Labelle, and The Isley Brothers, and released his third solo album, "Sincere," late last year. The record features the artists' signature blending of R&B, soul and pop.
The concert will take place from 7:30-9 p.m. at Fort Hunter, 5300 N. Front St. in Harrisburg. Light refreshments will be available for purchase, and proceeds benefit the Friends of Fort Hunter. Attendees are encouraged to bring lawn chairs and may also bring picnic baskets. For more information, visit www.forthunter.org or the artist's website at www.gordonchambers.com.
Festivals — Cultural Fest
Festival season is still in full swing, and Dauphin County begins the month with Cultural Fest, a celebration of cultural diversity from 5 to 10 p.m. on Friday, Aug. 3. Held in downtown Harrisburg at the corner of Market and Second streets, the open air street festival is offered by the Dauphin County Commissioners and the county's Multicultural Task force and will feature music on two stages from the popular S.O.S Band as well as other national and local artists. No festival would be complete without a range of food options, and this festival promises a taste of exotic ethnic dishes as well as crafts and activities for children. Admission to the event is free, and visitors are welcome to bring lawn chairs. For more information, visit www.dauphincounty.org.