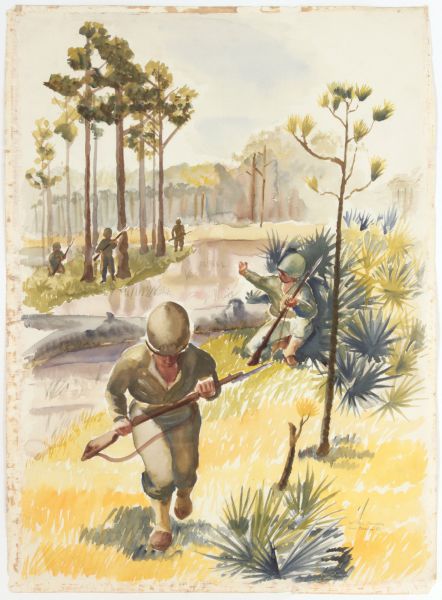 The Susquehanna Art Museum has once again given the community a reason to visit Midtown Harrisburg in bringing internationally acclaimed master realist painter Philip Pearlstein (b. 1924) to their main gallery.
This groundbreaking collection includes the artist's earliest works through the development of the modern figure paintings for which he is best known.
"Philip Pearlstein: Seventy-Five Years of Painting" takes the viewer on a tour of the artist's prolific career. From his first award-winning painting, created as a teenager in 1941, to one of his signature Realist Figurative nudes painted in 2016; this journey of 75 years honors the 93 year-old Pearlstein's ongoing career.
After Pearlstein honed his early skills in his native Pittsburgh, he was drafted into the U.S. Army during World War II. During this time, Pearlstein traveled to Florida and onto Italy, using his artistic skills in graphic design for the military.
Not abandoning his passion for fine art, Pearlstein captured day-to-day images of such subjects as camp, "Training in Camp Blanding, Florida (Soldiers Resting, Bayonet Practice)" and the local scenery, "Swamp, Camp Blanding, Florida (#14)." Even in these early studies, one can see the figures portrayed with increasing attention to figurative detail.
Upon discharge, Pearlstein's interest turned to landscape as he traveled throughout Italy. "Positano #3" and "Imperial Palace #4" both show an Expressionist-influenced landscapes, having strong attention to color and form.
In the early 1960s after returning from Europe, Pearlstein returned to drawing the human form during figure modeling sessions. He chose to work with the classic subject of the nude figure. It is during this period that Pearlstein began the work for which he is most identified.
Working only with live models, never photographs, Pearlstein has become known for realistic depictions of models in formally constructed scenes. The ability to look at the human body as an object within a scene, one element of an overall composition, has characterized Pearlstein's large scale paintings.
Beginning with a focal point on the model, Pearlstein works outward on the large canvas. Often that focal point determines the scale of the entire painting creating unusual perspectives and radical cropping of the scenes.
This is illustrated in one of his earliest works of this type, "Two Seated Models" from 1968. Two women are seated closely together upon simple folding chairs, as the focus is upon their nude midriffs—even their faces are cropped out of the painting. The attention to the details of the women's skin, muscles and the shadows cast over their bodies, tell a story of a scene, a moment in time, not affected by external narrative.
Other paintings include a variety of unusual props and colorful collectibles. Toys, antiques and Americana novelties co-exist equally within the composition with the models.
"Mickey Mouse Puppet Theatre, Jumbo Jet, and Kiddies Tractor with Two Models," shows exactly that as a male and female model glance in opposite directions reclining in a casually detached manner amongst the props. Pearlstein's style portrays the scene in such a way as to give all the elements equal weight within the painting, and to look at the human body as just one additional compositional element and not as the subject.
Another key aspect of Pearlstein's work is his unabashed celebration of the human body, regardless of imperfection. In the artist's own words, "I can only hope to project my respect for the models by depicting them as accurately as possible. That involves seeing every part of the body as unique to each person, part of his portrait. Because I don't want my images of figures to have story telling meaning, they do not exchange gestures but remain self-contained."
Therefore as the model may play a central role or focal point, Pearlstein is careful to not create an unintended storyline within the scene with a human backstory. "Two Models With Three Masks and Carousel Lion" is a complete depiction of models, props and furnishings. No explanations, all elements holding equal importance within the painting, with no narrative content, the consistency of the painting's finish as well as the artist's ability becomes the true subject.
Pearlstein's large canvases dominate the walls of the gallery, but it is not due to their sheer size alone. His ability to depict the most recognizable of forms, the human body, within a tableau of seemingly random composition reinvigorates Realism by removing the art historical narrative and instead allows the work to stand solidly on its own merit.
"Philip Pearlstein: Seventy-Five Years of Painting" is on view through May 21 at the Susquehanna Art Museum. The museum is located at 1401 N. Third St., Harrisburg.
The museum is open from 10 a.m. to 5 p.m. Tuesday to Saturday and noon to 5 p.m. Sunday. General admission is $8; $5 for teachers, seniors and veterans; free for children younger than 12. Free parking is available at the rear of the building. For additional information on the museum and exhibitions, visit its website at www.SusquehannaArtMuseum.org.
Joseph George holds degrees in history and art history from Dickinson College. He and his wife, Barrie Ann have spent over 25 years together traveling and visiting art galleries locally and throughout the world. Their tastes range from fine art to street art.