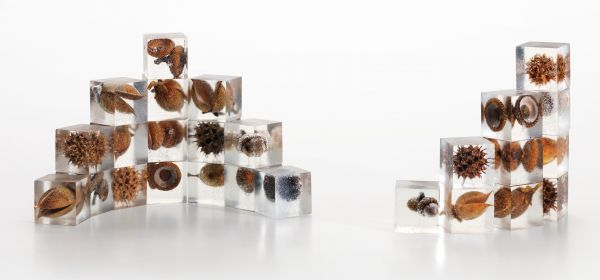 As the dog days of summer are upon us, where better to commune with nature than inside an art gallery?
The Susquehanna Art Museum has brought this unique experience to the Midstate with "Recasting Nature: Selected Sculptures by Beth Galston, 1998–2016," a retrospective of works by the sculptor and installation artist. Galston's art combines organic and man-made materials to transform them into a hybrid of natural forms. The result is best compared to a futuristic walk in the woods.
Galston has collected leaves, seed pods and twigs and preserved them in their natural state with a clear urethane resin. She has been able to "freeze" these moments in time within cubes and bricks.
"Pod Cubes" and "Red Maple Cubes" are small compositions of the clear square forms encapsulating pods and acorns. The larger formations, "Ginkgo Wall" and "Sycamore Circle," are composed of similar resin blocks that contain delicate stacks of leaves constructing formal architectural structures.
By her selection and arrangement of these objects, she adds a sense of order that is absent from her inspiration in nature. These natural elements, due to their preservation, have become, in essence, immortalized, free from decay.
The artist has continued to collect and transform materials in the installation, "Tangle," a rope constructed of more than 30,000 acorn caps drilled and strung together on monofilament. Since the caps are joined together, the resulting elongated form lays twisted on the floor then rising upward, as it is suspended from the ceiling.
Galston describes her construction in this way, "... elements become building blocks, which I repeat to make the larger installation. As in nature, where things are made of cells which combine in various ways to grow an organism, I work with these modules to 'grow' a piece."
Similarly, the creation of "Water Chestnut Sphere" began with hundreds of water chestnuts that were meticulously pieced together to assemble a ball in which she ultimately hallowed out a small opening to demonstrate that the figure was completely solid.
A cast resin rose stem was the building block for the breathtaking display "Ice Forest." More than 150 rose stems, complete with thorns, are suspended from the ceiling inches apart in a mixture of beauty and danger. The re-creation of the stems in the clear resin, give them the look of icicles, creating a mystical woodland that casts dancing shadows around the darkened gallery.
An installation created specifically for the Susquehanna Art Museum exhibit, "Luminous Garden (Wave)" is a mesmerizing field of glowing blue flora. Only these flowers were cast from the water chestnut and bloom via LED lights atop a patch of undulating wire stalks and roots. As the lights gradually brighten and darken, it gives the impression of a light breeze or ocean wave.
One cannot help but be calmed by the experience, or as Galston describes, "... when you are in the space it slows you down and makes you aware of your own breath. The light has a profound effect on creating a mood, an ambiance, and a feeling of immersion."
"Recasting Nature" powerfully preserves the ephemeral and transitory elements of nature through a mixture of both organic and inorganic materials. Galston interprets her retrospective as "the title Recasting Nature can be thought of in two ways. Literally, it refers to my process of casting using urethane resin, a translucent plastic ... The word recasting also means, 'to cast again or anew.' By taking something familiar, such as an acorn or rose stem, I can transform them, so that the ordinary becomes extraordinary."
Indeed "Recasting Nature" is an extraordinary exhibition. Its presentation within the cavernous, industrial gallery space of the Susquehanna Art Museum, allows the viewer to become intertwined with the works, creating an interactive, unforgettable experience.
"Recasting Nature: Selected Sculptures by Beth Galston, 1998–2016" is on display until Sept. 18, at the Susquehanna Art Museum. The museum is located at 1401 N. Third St., Harrisburg. The museum is open from 10 a.m. to 5 p.m. Tuesday to Saturday and noon to 5 p.m. Sunday
General admission is $8; $5 for teachers, seniors and veterans; free for children younger than 12. Free parking is available at the rear of the building. For additional information on the museum and exhibitions, visit www.SusquehannaArtMuseum.org.
Joseph George holds a degree in history and art history from Dickinson College. He and his wife, Barrie Ann have spent much of their 25 years together traveling and visiting art galleries locally and throughout the world. Their tastes range from fine art to street art.