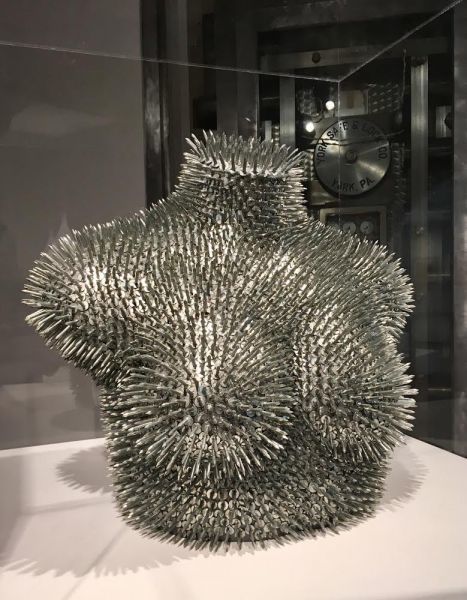 As one of the fundamental aspects of personal identity, gender has been examined by artists throughout history. In recent years, society has been experiencing the increased politicization of identity expression while contemporary boundaries and norms are constantly shifting.
The Susquehanna Art Museum has chosen to examine these themes of personal expression in its fourth annual juried exhibition, "Identity Spectrum," which is on view in the Lobby Gallery and Vault through Aug. 5.
The juror for this exhibit was Christine Fillipone, associate professor of art history at Millersville University, who specializes in contemporary and 20th century art, as well as serves as the coordinator of the university's Women's and Gender Studies program. Fillipone selected works from more than 20 artists for this exhibition, from interactive video installations and collage to re-imagined classical sculptural forms. The exhibition explores gender as a fundamental aspect of personal identity from regional as well as national artists.
Society's mixed messages are represented in Michael Bricker's mixed-media creation, "Spiritual Truth Over (Untruth)." Hand written Bible verses with themes of love and compassion span the framed work as a small faded photograph of protesters espousing intolerance and hate occupies the center focal point. The messages, both touting roots in religion, illustrate the diametrically opposite points of view.
Carolyn Cohen's "Unidentified AIDS Patient" uses the unique medium of Batik. Batik is a technique of hand dying fabrics by using wax to manipulate the dye surface. Her powerful portrait is reminiscent of works by Picasso.
Cohen describes her art by saying, "My work has as strong social justice component to it. I create portraits of people who have been marginalized, discriminated against or abused. They provide faces to those who are faceless, nameless and powerless and comment upon the blind eye that is turned to those who are suffering."
Amelia Markey and Nicole Leubecker collaborated upon the project, "Merge," a series of digital collages. The resulting works examine each artist's personal influences as they explored their own visual identity. After each artist created three pieces, they took note to the influences they had on each other and then chose to highlight their similarities in a new synthesized combination of both individual's work. Together the two female artists were able to focus upon how they were able to interact and translate the work of one another through cooperation.
You have free articles remaining.
Photographer Nicole Dube investigates the concept of identity as she challenges "the idea that any person should be either, and completely, one thing or another." In "Whichever," a digital photograph, a stylish model wearing a dark suit crosses her legs, clad in both hose and pants. The expert positioning of the four legs, fools the eye to confuse the viewer as to which appendages actually belong to the model. It is, however, more important to question the necessity of such a query and why there must be an either/or answer.
The video medium plays a prominent role in the "Identity Spectrum" exhibit, and Henry Gepfer's "It Will Never Not Be Like This, Will It?" is a highlight. In addition to the video aspect, Gepfer's piece includes an interactive quality. Gepfer's video guides the viewer through the creation of a paper mask that symbolizes the masks that represent a fictional and emotional veneer. The concept addresses the typical heroic projections of traditional masculinity within society and how that may be difficult to conform.
Sanh Tran's digital photographs directly examine the notions of gender in "High School Daze, No. 13" and "Miss Spring Fragrance Making American Fudge, No. 8." Tran explains that "... I take queer identity out of the shadows and to create characters that satirize stereotypes of masculinity and femininity." The photographs' elaborate make-up, costumes and staging, vividly tell of "traditional" roles and challenge expectations.
The classical sculpture is re-interpreted in Patricia Craig's "Entity," which is created from a re-purposed fiberglass cast covered in nails. The female shape is given a suit of armor as the shiny nails protrude from top to bottom. The highly feminized appearance of the dress form, which is more expected to be clad in soft fabric, is given the toughest of exteriors on this twist upon the traditional. "Entity" could even be interpreted as a commentary on the changing roles and expectations of women within our culture.
The works that encompass "Identity Spectrum" all provide unique perspectives on individual expression and the definition of gender, both visually and conceptually. They will lead the viewer to examine their own understanding of personal identity, which is important in facilitating empathy and humanity within our communities.
"Identity Spectrum" is on view in the Lobby Gallery and Vault through Aug. 5, at the Susquehanna Art Museum at The Marty and Tom Philips Family Art Center. The museum is located at 1401 N. Third St., Harrisburg, and is open to the public 10 a.m. to 5 p.m. Tuesdays through Saturdays, with extended hours until 7 p.m. on Wednesdays. The museum is also open from noon to 5 p.m. Sundays.
Free parking is available to museum-goers in the lot immediately adjacent to the rear of the museum at Calder and James streets.
General admission is $8; $5 for teachers, seniors and veterans; and free for children 12 and younger. For additional information on the museum and exhibitions, visit its website at www.SusquehannaArtMuseum.com.
Joseph George holds a degree in history and art history from Dickinson College. He and his wife, Barrie Ann have spent much of their 25 years together traveling and visiting art galleries locally and throughout the world. They have been writing about the local art scene for five years. Their tastes range from fine art to street art.