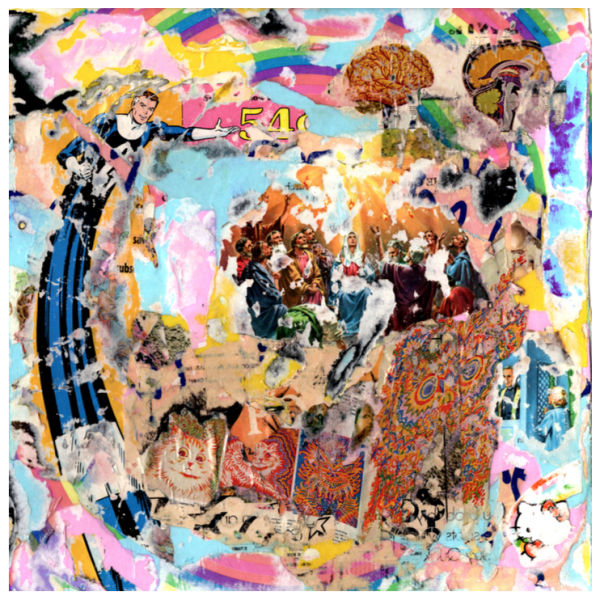 Beginning Saturday, the Carlisle Art Gallery, Ejecta Projects will host "Unsolicited Submissions," an exhibition featuring 19 artists who work in a variety of media, including painting, sculpture, photography, collage, video and sound art.
The gallery's call for art yielded almost 100 entries from both national and international applicants, and ultimately the selected artists hailed from various parts of the country, including New York, Chicago, Texas, Montana, Philadelphia, Baltimore, Washington, D.C., as well as Central Pennsylvania.
The title of the exhibition acknowledges a common art gallery policy to not accept unsolicited submissions from artists. In Ejecta Projects' first call for entries, the curators sought artists who may be deterred by this perceived exclusivity. In addition, many artists' submissions to galleries and exhibitions, when not accepted, are simply discarded.
All artists' proposals for "Unsolicited Submissions" have been color printed, folder bound and are prominently displayed in the exhibition as a library of artwork. All visitors are encouraged to peruse this library during their visit to the gallery. Taken together as a whole, the artists' works on display in "Unsolicited Submissions" investigate ideas of displacement, isolation, and fragmentation both in relation to abstracted bodies and unusual landscapes.
One of the first pieces presented to the visitor is echoing periodically throughout the gallery. It is Sarah Nance's haunting vocal composition "Marseille tidal gauge aria," a soundscape performed in an operatic style that refers to rising sea levels and geologic time. Recorded on a loop, the two minute refrain fills the room with a melancholy strain until silence; only to be repeated, creating an unexpected and somewhat unsettling element to the exhibition space.
Similar concerns about changing landscapes emerge in Ryan Parker's "Containers, Bozeman, MT," a vaguely "lunar-esque" photograph of real storage containers near a warehouse distribution center in Montana. The large scale archival pigment print is printed with such clarity that it resembles a close-up of a miniature diorama or even an outer space-themed movie set. Cracked concrete road and plowed mounds of snow can be reinterpreted as rocky landscapes and rolling hills, and even the more mundane views of the shipping containers take on an otherworldly space station-like appearance, which is sure to fool more than a few viewers.
The all too familiar takes center stage in David Aipperspach "Microwave (3)," a large scale oil painting of a common household microwave oven, captured in epic proportions. This photorealistic representation of an everyday item with its shiny white interior, highlights the lines and graceful shadows, such that though the sight may be commonplace, it elevates the appliance into a thing of artistic beauty.
Kate Casanova's "Untitled #21" is a less familiar sculptured form. Crafted from plaster, thermoformable plastic, silicon and spray paint, this unique sculpture uses organic shapes and synthetic materials to create a hybrid body. The materials are deceptive as they resemble clear glass, oxidized metal and even colorful pink wax. The work blurs the lines between organic and synthetic in this engaging creation/creature.
Pieces of the past are colorfully combined and remixed in Craig Hill's "Untitled" from the "Super Freaky Memories" series. Reminding one of urban walls endlessly covered with posters in various stages of decay, Hill's collage brings multiple layers of pop culture detritus to create a colorful Pop Surrealist master work.
Cindy Lesperance was influenced by her own aerial views of the landscapes to create "Salt Flat 2025." The geometric shapes in earthen tones build patterns that are both familiar yet abstract. Crafted using droplets of encaustic, a combination of beeswax, resin and pigment, the medium adds a tactile dimension to the piece.
While the artists in the exhibition demonstrate diverse studio practices and are influenced by their individual histories and identities, "Unsolicited Submissions" brings these works together to introduce new ways of thinking about form and landscape in both the familiar and the imagined in this beautifully cohesive exhibition.
Ejecta Projects will hold a reception this Saturday, Aug. 17, from 5-7 p.m. to celebrate the opening of "Unsolicited Submissions." As always, the gallery is free and open to the public. A number of the exhibiting artists will be in attendance at this special event.
In addition to "Unsolicited Submissions," Ejecta Projects is also displaying the work of Lucy H. West in "Hungry Spacey Distracted," which is on display in the "Curious Cabinet" at the gallery through Dec. 24. West is a Philadelphia-based artist who is originally from Tokyo. Many of her tiny tabletop paintings reflect on how her core identity is affected by her surrounding environments. She creates expressive abstract compositions that derive directly from her subconscious thoughts that are sure to intrigue and delight the viewer.
"Unsolicited Submissions" is on display at Ejecta Projects, located at 136 W. High St., Carlisle through Sept. 21. Gallery hours are 3 to 7 p.m. Thursday to Friday, and noon to 7 p.m. Saturday. Contact Ejecta Projects by phone at 443-904-3648 or visit its website at www.ejectaprojects.com.
Joseph George holds a degree in art history from Dickinson College. He and his wife, Barrie Ann have spent over 30 years together traveling and visiting art galleries locally and throughout the world. They have been writing about the local art scene for seven years. Their tastes range from fine art to street art.