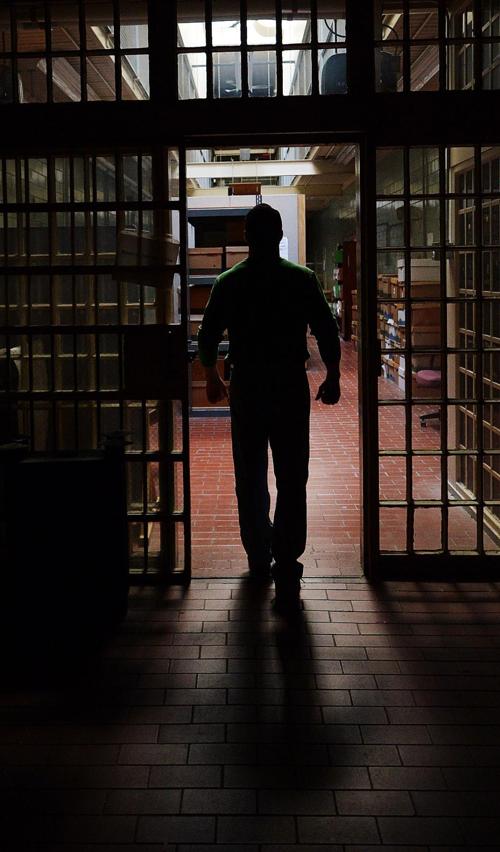 Hanged convicted murderer Charles Salyards tried again to claim his innocence Wednesday night during an episode of SyFy's paranormal investigation series "Ghost Hunters," in which the investigators visited Carlisle.
The episode began with the cast exploring the Conrad-Caldwell House Museum in Louisville, Kentucky, observing strange beams and spheres of light and sudden eerie disembodied voices perhaps belonging to the dead.
Shot predominantly in black-and-white, giving the show that Night-of-the-Living-Dead-feel, and sometimes from the point of view of handheld night vision cameras, Carlisle anchored the show's latter half as the ghost hunters skulked through the tangled halls of the fortress-like Old Cumberland County Prison, 37 E. High St.
According to a previous article appearing in The Sentinel, there have been numerous sightings of apparitions and unexplained sounds at both the Old Courthouse and the old prison. The latter operated from 1854 to 1984 and is now used for some county offices.
Kristen Rowe, communications manager for the Cumberland Valley Visitors Bureau, met ghost hunters Steve Gonsalves and Jason Hawes in the prison's basement and explained to them the tale of a man unwilling to admit guilt and ultimately dying for it.
"In 1893, police officer George Martin followed a suspicious man into an alley and was shot and killed," she said. "Charles Salyards was charged based on reputation alone. They charged him with murder, but claimed he was innocent until the day he was hung."
Rower relayed that witnesses claimed to have seen an apparition with no torso or head, just legs walking in the prison's basement, and the feeling of being watched while walking near the cells.
As the episode progressed, Hawes and Gonsalves began on the main floor of the prison, where Salyards was locked up. Gonsalves called out to Salyards, exclaiming he was a former member of law enforcement and "if you want to proclaim your innocence to somebody, you should do it to me."
The provocation worked, for minutes later, standing near the cell which had belonged to the supposed ghost, a voice was briefly heard.
"That was a voice, that was a distinct voice," Hawes said.
Other supposed paranormal activity included bangs in distant hallways and the slamming of a door.
In the end, the crew members displayed their findings to Rowe inside of their utility van.
That's where the show saw its most frightening evidence of hauntings within the prison.
Rowe was filmed listening to an audio clip that she couldn't quite make out, but Gonsalves told her what it was the investigators believed it to say.
Three words: "It wasn't me."