Govt-and-politics
alert top story
State
Shapiro's first Pennsylvania budget stresses schools, reserves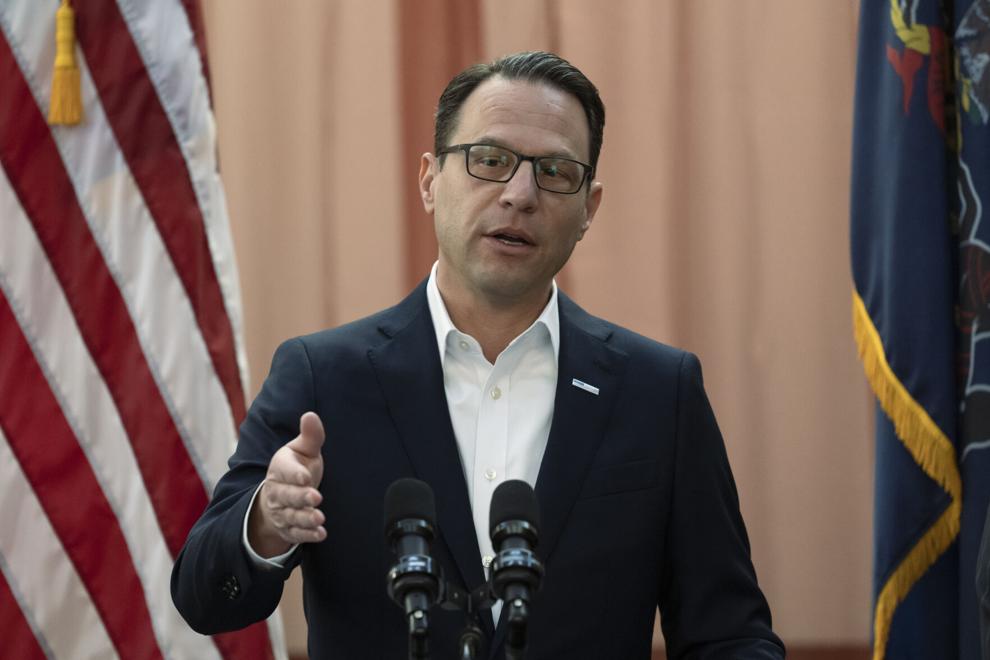 HARRISBURG — Gov. Josh Shapiro is proposing a hefty increase in aid to Pennsylvania's schools in his first budget delivered Tuesday to the Legislature, but the Democrat's administration also emphasized prudence, saying a massive cash surplus will dwindle over time.
Shapiro's budget proposal comes as Pennsylvania takes in robust tax collections, leaving it with billions in reserve, even as the administration faces demands for more money for schools, highways and social services.
Spending would rise by 6% while Shapiro is proposing no increases in income or sales taxes, the state's two main revenue sources.

Shapiro did not, however, repeat his call during the campaign to more than halve the corporate net income tax rate over two years, preferring instead to discuss it with lawmakers while his administration keeps an eye out for volatility in collections.
Shapiro also did not propose any major one-time spending items using the reserve cash, although roughly $1 billion in money for public schools will come with grants for mental health needs, security improvements and removing environmental hazards.
In his 83-minute address to a joint session of the House and Senate, Shapiro promised to repay voters' trust by showing that "government can be a positive, productive force for good."
Using conservative revenue forecasts, Shapiro said his administration is prepared to weather difficult fiscal times.
But, Shapiro said, he is also making "investments to build an economy that works for everyone, to create safe and healthy communities, to ensure that every child receives a quality education and to protect real freedom."
Shapiro's budget plan for the 2023-24 fiscal year that starts July 1 would boost spending through the state's main bank account to $44.4 billion, a 4% increase over this year's budget. The increase would be 6%, but the Shapiro administration moved the $930 million state police budget out of the state's operating account.
The budget requires approval from the Democratic-controlled House and the Republican-controlled Senate.
The plan will require about $2 billion from reserves, as tax collections are projected to dip.
Republicans quickly flagged that as a concern, calling it short-sighted and dangerous, and criticized Shapiro's budget for lacking more aid for private schools.
Meanwhile, Democrats acknowledged that Shapiro's proposal may not go as far as public school advocates wanted, but they touted the millions devoted to providing free school breakfasts, maintaining anti-violence programs, helping pay for public defenders, and increasing property tax and rent subsidies for the elderly and disabled.
Most of the new money will go to education, health care and social services.
His administration said it will seek no tax increases, other than an increase in a fee on monthly phone bills to fund county emergency response systems — from $1.65 to $2.03.
The poor districts that won a school-funding lawsuit want Gov. Josh Shapiro propose a significant down payment and a plan to overhaul how the …
On the flip side, Shapiro proposed eliminating taxes of 11% on mobile phone service — a promise he made during last year's campaign. Shapiro raised another campaign pledge and asked lawmakers to increase the minimum wage to $15 an hour next year from the federal minimum of $7.25.
Perhaps the most prominent feature of Shapiro's budget is what he said would be a "down payment" on the billions of dollars that public school allies say are necessary to comply with a court decision that found Pennsylvania's school funding system violates the constitutional rights of students in the poorest districts.
He is proposing an increase of $567 million — or about 7% more — for day-to-day school operations, plus about $100 million more apiece for special education, mental health counselors, anti-violence grants, and removing environmental hazards in school buildings like mold, lead and asbestos.
That cash, however, may disappoint public school advocates and the school districts that won last month's court decision. They had hoped for at least $2 billion to start.
Shapiro also touted money to develop cutting-edge technology, streamline state permits and train workers as Pennsylvania tries to land the kind of a semiconductor, battery or microchip plants that are going to other states.
"I'm sick and tired of losing out to other states," Shapiro said.
In the meantime, good fiscal times could be ending.
A legislative agency, the Independent Fiscal Office, projects that Pennsylvania will soon return to its long-term pattern of deficits now that federal pandemic aid has been spent and inflation-juiced tax collections subside.
There are other cost pressures.
Shapiro's budget seeks to send an additional $100 million to improve highways and bridges, while the administration sees how much federal funding it can get to fill a gap that PennDOT last year said was roughly $8 billion, or more than 50%.
Providers of services for the intellectually disabled and autistic say the system is collapsing as they close programs because of underfunding and staffing shortages. They are seeking an additional $430 million, or 15% more, in state aid, while Shapiro's budget proposes about $120 million.
Counties say the safety-net mental health services they manage are in crisis, without enough beds or counselors for people who need help after demand spiked during the COVID-19 pandemic. Shapiro's budget proposes about $20 million more, which may not be enough for counties that say they are working with the same amount of state aid as they received in 2012.
Democrat Josh Shapiro took the oath of office Tuesday in Harrisburg to become the 48th governor of Pennsylvania.