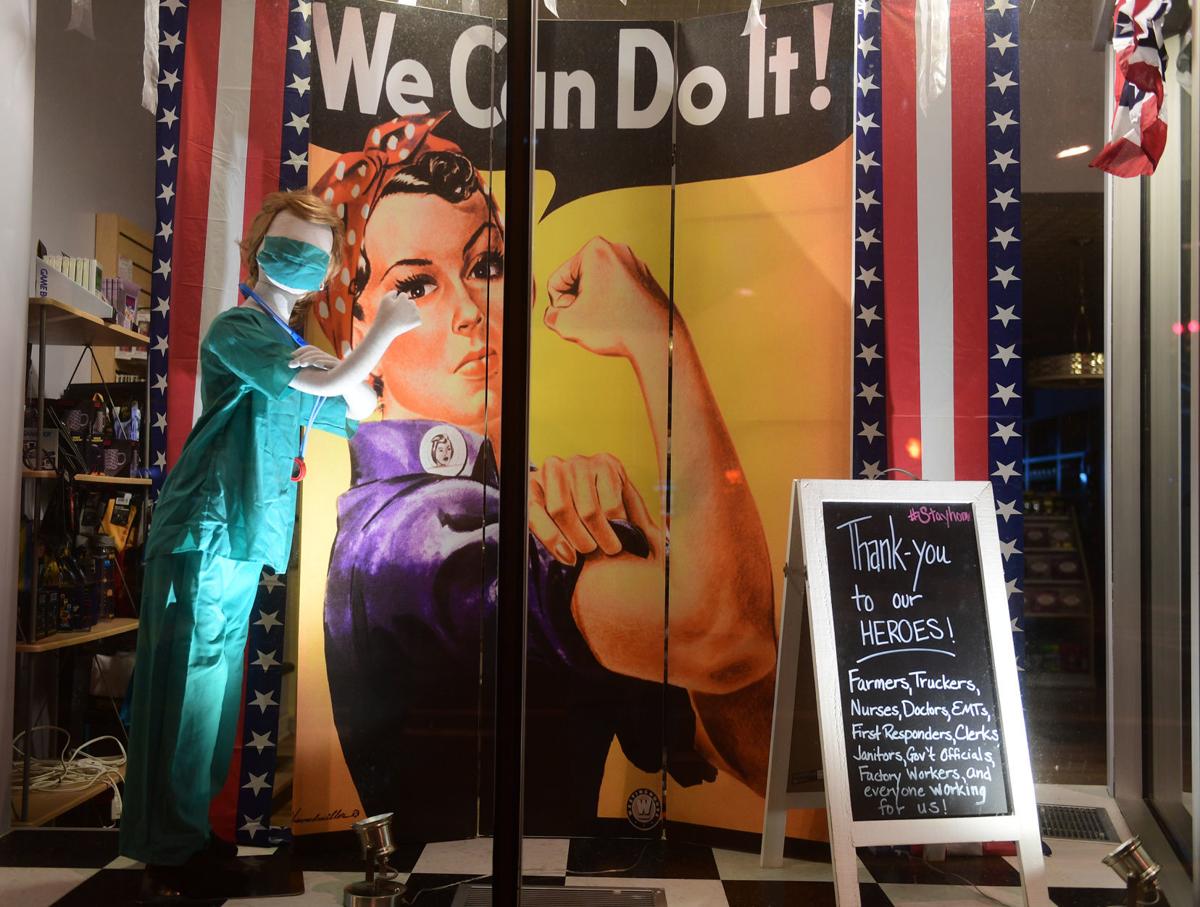 Formerly on the cusp of a new golden age, downtown Carlisle's businesses are now faced with the possibility that theirs will be the last part of the economy to come back after the COVID-19 pandemic subsides.
With the federal Small Business Administration confirming Thursday that the Paycheck Protection Program loan fund — established under the federal CARES Act and implemented just two weeks ago — has already hit it's $350 billion limit, and increased unemployment checks are delayed amid a deluge of claims, the area's smallest businesses are left with few options.
"We were going to ramp up this year and do some bigger events, but this kind of stopped us in our tracks," said Stephanie Patterson Gilbert, owner of Georgie Lou's Retro Candy, during an online event Wednesday night sponsored by Dickinson College's Clarke Forum for Contemporary Issues.
"It's really put a pause on their momentum," said Tanis Monroy, whose marketing business works with Destination Carlisle and other local promoters. "I really hope those new businesses hang in there."
The challenge of hanging in there is broad, although there are a few rays of hope.
Downtown Carlisle's businesses, like many small towns, are heavily skewed toward the leisure and hospitality sector, which has been hit disproportionately hard by the pandemic-induced economic downturn, but has received comparatively little help.
Data from the Pennsylvania Department of Labor and Industry indicates that about 18% of initial unemployment claims during the first two weeks after Gov. Tom Wolf's shutdown order were from the leisure and hospitality sector, even though the sector employs only about 11% of Pennsylvanians, according to the federal Bureau of Labor Statistics.
As of Monday, when the SBA said it had thus far disbursed $250 billion in Paycheck Protection loans, the leisure and hospitality sector had received just under 11% of the total value. Pennsylvania businesses in total received just under $10 billion through 36,604 loans - but this covers only about 40 percent of the state's payroll of business with less than 500 employees, which are eligible for the loans, according to a Bloomberg analysis.
Paycheck Protection loans are forgivable if used for payroll, rent, and some other fixed expenses, the intent being to subsidize businesses to keep their employees on the rolls, even though they aren't' able to work.
But leisure and hospitality industries, particularly restaurants, run on especially low wages and tight margins, putting them at a disadvantage given they go into the red very quickly. Restaurants also took a drop in business before many others, with reservations in PA dropping 56 percent even before Gov. Tom Wolf's shutdown order to slow the spread of the virus took effect, according to data from OpenTable, a restaurant booking service.
Further, many small businesses are family operations that have not taken out large commercial loans in the past, and don't have a relationship with an SBA-backed bank.
"I'm hearing that people are struggling because a lot of people have never taken out a loan," Monroy said.
"It's really about connections," said Gilbert, adding that it had taken her some time to get referred to someone at Mid-Penn Bank who would take her loan application, as many banks are only working with existing clients.
"It's just slow," she said. "I don't know of anyone who has gotten money yet from these programs."
Federal guidance also indicates that Paycheck Protection loans and the enhanced unemployment benefits offered under the CARES Act are an either-or choice. For restaurants struggling to offer to-go options only, the SBA loan may not cover their spread, making unemployment an attractive option.
"A lot of them are at the line of 'do we continue, because it can cost more to do takeout, or do we just close and try to wait it out,'" Monroy said.
For many downtown businesses, their largest overhead expense is rent, Gilbert said. One of the biggest possible boosts to the borough would be for landlords to be forgiving.
"That would be incredibly helpful and help some of your small businesses survive a little longer," she said.
While some states and municipalities are considering rent and mortgage freezes, or laws to protect occupants in the future as they make back payments, Pennsylvania doesn't have any such policies in place, although some legislators have called for it. The state Supreme Court, in its judicial guidance last month, did tell lower courts that evictions should not be considered emergency proceedings and could wait until after the pandemic.
On the upside, the community has come together in some novel ways.
Monroy pointed to Carlisle Strong, a group of local organizers who have been accepting donated funds to place meal orders with local restaurants, and sending the food to soup kitchens such as the Salvation Army.
More businesses have started selling online, Gilbert said. Georgie Lou's was shut entirely for two weeks before Gilbert got her online ordering and delivery set up.
"Just because one of your favorite businesses wasn't open two to three weeks ago, doesn't mean that they aren't now," she said.
One of the most surreal experiences may have been for Kirk Ream of Transformation Training and Fitness, who was a few weeks away from re-locating his exercise studio downtown. He's now making workout videos and sending them to clients, and giving instruction over video chat.
"We've basically built a business model that is all about group and community and high fives and enjoying each other's company with workouts," Ream said. "There's a sense of almost mourning that's in existence with our members, because they're used to seeing each other."
But his clients are getting used to doing classes remotely, Ream said. And as much as the community is providing for local business, Ream said he also feels it's the responsibility of local business to provide a sense of normalcy.
"It might be delivered in a different way, but it gives them a sense of peace and a sense of 'this is going to be OK,'" he said.
Concerned about COVID-19?
Sign up now to get the most recent coronavirus headlines and other important local and national news sent to your email inbox daily.