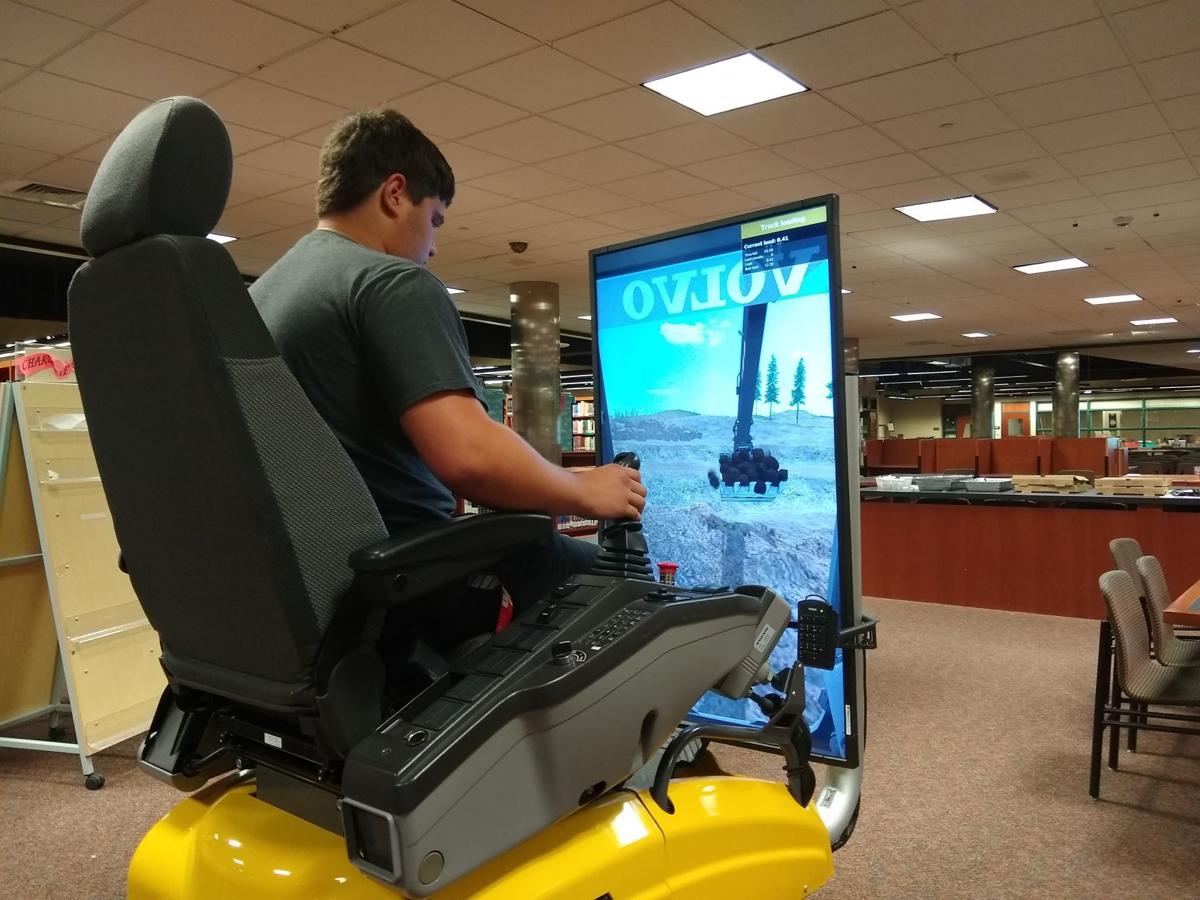 Local construction and industrial companies say they're facing an imminent labor crisis for heavy equipment operators, as local educators try to fill the gap.
Representatives met Thursday at Cumberland Valley High School, which is running the first session of a summer program designed to get students the entry-level skills and qualifications needed to operate backhoes, loaders and other complex moving machinery.
The program, done in conjunction with HACC and the Cumberland-Perry Vocational-Technical School, and organized by the Cumberland Area Economic Development Corp., is intended to allow high school students to enter the workforce in an apprenticeship capacity immediately after graduation.
"We want these individuals to be ready to go to you to learn more," said Lauren Holubec, head of career and technical programs at HACC.
The program being done through Cumberland Valley is a 70-hour course. Only a handful of students enrolled for the first session, but this number will hopefully grow as students learn that the labor market is in their favor.
This was on display Thursday, as several of the students who attended in order to demonstrate the program's training simulator were immediately given business cards by employers.
"This helps us and it helps our customers," said Andy Williford of Volvo in Shippensburg, which supplied the training simulator.
Volvo, a major manufacturer of such heavy equipment, created the simulator which features a large electronic screen that can mimic several types of lifts and loaders.
Students in the CV program also did training on-site at Volvo in Shippensburg, seeing how the equipment is manufactured and learning basic maintenance. A number of local employers also had a hand in the course.
"I think everyone in the industry realized the next five to 10 years are going to be a very trying time for us if we don't make this commitment now," said Brad Kent with David H. Martin Excavating.
The sentiment was near universal. Most employers were seeing their most experienced operators and technicians retire with replacements few and far between.
"We're all getting older," said Jim Gleim of John W. Gleim Jr. Excavating. "We have men and women who are getting ready to retire and want to pass on what they know but we have trouble getting young people interested."
Very few of his new hires come in with experience, Gleim said. Many are hired simply on character and their ability to learn. The average person takes about three years to develop the full skill set, Gleim said.
With competition for hires increasing, pay has been trending up as well, Gleim said. A fully green hire will start out at $16 or $17 per hour, Gleim estimated, but his company assesses their work output after 90 days and many receive large raises.
"They're paid for what they can do, not how long they've been there," Gleim said.
Average annual earnings for workers involved in site preparation in Cumberland County were $54,474 in 2017, according to the federal Bureau of Labor Statistics, versus $41,143 in 2007. This is a 13 percent increase over the decade, adjusting for inflation.
This is significantly better than the county's workforce as a whole, which on average only saw a little over 4 percent inflation-adjusted wage growth from 2007 to 2017.
But it might not be worth it for everyone.
"There are a lot of good paying jobs, but they're not easy," said Robert Kalbach of Liberty Excavators. Work starts early and job sites can be far away, and being outside for extended periods can be taxing.
But the biggest hurdle, Kalbach said, is "parents not understanding the value of going right into the industry."
"It's a fantastic career with almost no debt," Kalbach said.
"We have to overcome the stereotype, and heard it when I was young, that you have to have a four-year degree to get a good job," Cumberland County Commissioner Vince DiFilippo said. The county government, through its funding of CAEDC, has been broadly supportive of such workforce development efforts.
Earlier this year, CAEDC concluded a study that involved surveys of parents, students and teachers in the Carlisle, West Shore, and Cumberland Valley school districts.
The survey found that, while parents were more likely than their children to be concerned about student debt, they were also more likely to believe that their child could not make a living wage with just a high school diploma.
Financial concerns like avoiding college debt, or going into a field with a better wage growth history, are on the radar of the CV heavy equipment students. But so are personal preferences.
"I know that it pays good money, and it's always going to be in need," student Kyle Miller said.
"Honestly, I'm just not good at sitting still," student Jayden Shindel said. "You're engaged with what you're doing. It's not like you're sitting there doing paperwork."