Holiday Rewind: The Sentinel's 12 Days of Cookies collection
Holiday rewind jumps back to 2015 when Sentinel staff members offered their favorite holiday cookie recipes and the stories behind them in 12 Days of Cookies.
Cookies logo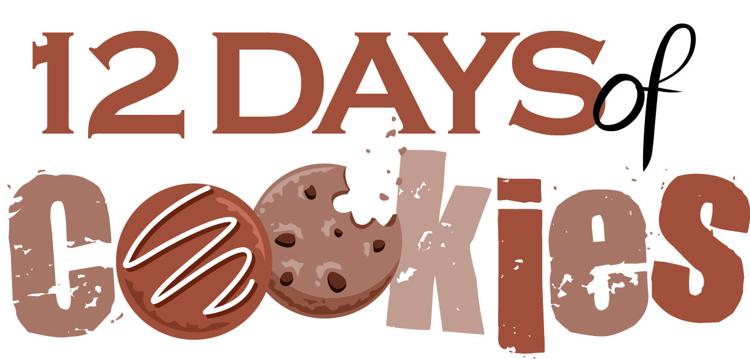 12 Days of Cookies: Chocolate-Covered Peanut Butter Balls
Mom always made a lot of cookies and candy for the holidays. But one year I fondly remember actually resulted in me and my two brothers getting spanked.
Mom had worked very hard in advance of the holidays to get ahead of the rush and be better prepared when friends and family came in for the holidays. I was 14 and my brothers 15 and 8. Mom and Dad had to be away from home one Saturday just before Christmas. Left home alone, my brothers and I went searching for something to eat. In the pantry, we found three 48-ounce. aluminum Maxwell House Coffee cans filled with all our favorite Christmas cookies and candy. We took one can to the living room and consumed it while watching TV. I specifically recall a mix of "Buckeyes" and other cookies, and my favorite — chocolate covered peanut butter balls.
We then started on the second can, and within a couple of hours had consumed all of it. At some point we started to consider that when mom discovered most of the Christmas treats gone, we might be in trouble. We decided to take the third can and divide it between the two empty cans. I suppose our intent was to make the damage look less ... damaging.
That was Saturday. After church on Sunday, Mom had invited some folks to the house for lunch and after lunch she decided to break out the cookies and candy. When she did, she discovered that most of it was gone. She gave us that look that said, "when these people leave, you have had it."
When the time came for spankings, Mom had barely gotten in a few good whacks when my older brother got her laughing about the whole thing saying something about beating the chocolate or fudge out of us. I think Dad then gave us a few licks "to remember." I never knew if he was trying to make sure we learned our lesson, or if he was just upset he didn't get to enjoy the treats.
I hope you enjoy the chocolate-covered peanut butter balls. They are worth whatever trouble they may get you in to.
Ingredients:
½ cup creamy peanut butter (substitute other nut butters, if needed)
3 tablespoons salted butter, softened
1 cup+ powdered sugar
8 ounces semi-sweet chocolate, chopped (or chocolate chips)
Directions:
1. Mix peanut butter and butter together in a mixing bowl. Gradually stir in powdered sugar until combined well into a dough ball. If needed, add more powdered sugar a little at a time until mixture holds together in a large ball. Cover and let peanut butter dough sit for about 15 minutes to firm up, or cover tightly with plastic wrap and refrigerate until ready to form balls.
2. Shape into 1-inch balls, place on a baking sheet, cover and refrigerate for at least 20 minutes to allow to firm up. Dough balls should hold shape before dipping in chocolate. Add more refrigeration time if necessary.
3. Melt chocolate according to package instructions.
4. Dip peanut butter balls one at a time into melted chocolate, allowing excess to drip off. Place on waxed paper lined baking sheet, cover and refrigerate until ready to serve.
— Gary Adkisson
12 Days of Cookies: Christmas Wreath Cookies
One of my fondest childhood memories of Christmas morning is my two sisters and I dressing in our brand new PJs, sitting at the top of the stairs anxiously awaiting the OK to come downstairs.
While sitting there I would think about what was under the tree for me? Did my grandparents, aunt and uncle make it this year? Did my grandma bring the fruitcakes and the green wreaths with those awesome little hot dots on them? Did my pappy make that awful fudge that only my dad liked? Did my Aunt Gloria follow her family tradition and bring us a bag of "Christmas Candy"? And did my Uncle Bill slip another crisp $2 bill in my card?
When I got older, I just had to have that recipe and start to think about the same tradition with my own grandchildren someday. This year, I was blessed with my first grandson. At just 2 months old this Christmas, I will have to wait until next year to figure out what cookie will mark my cookie tradition.
Christmas Wreath Cookies


Ingredients:
1/3 cup butter
10 oz. package of marshmallows (4 cups)
1 teaspoon green food coloring
6 cups of corn flakes
Red cinnamon candies
Directions:
In a large saucepan, melt butter over low heat.
Add marshmallows and stir occasionally until melted.
Remove from heat & stir in food coloring.
Add corn flake cereal and stir until coated.
Spray a measuring cup (1/4C).
Scoop and drop a mixture onto wax paper and shape into wreaths with buttered fingers.
Add cinnamon candies.
- Karen Robinson is an Inside Sales Executive for The Sentinel
12 Days of Cookies: Christmas Sugar Cookies
When I was a child, both of my parents were working full-time. Because of the close-knit nature of my father's family, I had an aunt and uncle who lived directly down the street from us.
My aunt was a daycare provider, so I was incredibly fortunate to be looked after by family members and to grow up alongside my cousins. A large portion of my sweet tooth was created by way of my aunt and her love of not only making sure the kids were safe and entertained, but also incredibly well fed. On days when my aunt made dessert, it was usually right after supper — and now that I think of it, she timed it just right so that we were amply jacked up on sugar by the time our parents came to get us.
In her kitchen I was introduced to fudge, no-bake cookies, muddy buddies, "wombats" (an awesome confection that I can't find anywhere else on the planet), and the staple of the holiday season: Christmas Cookies.
In reality the cookies are one of the simplest things in the world ... a sugar cookie with a three-ingredient glaze. It's the nostalgia that has made them stick with me through the years. During the cold and relentless Maine winters of my childhood, those Christmas cookies were a respite for a herd of children suffering from mild cabin fever. We would create edible trees, bells, angels, stars ... messily glaze them and slap random conglomerations of sprinkles and other confectionaries on top.
Eventually, as we got older they started to better resemble the object they were cut out to be, but the ritual was always something to look forward to.
Christmas Sugar Cookies


Ingredients
1 cup of softened butter
1 ½ cups of white sugar
2 large eggs
1 teaspoon of vanilla
3 cups of all-purpose flour
½ teaspoon of baking powder
½ teaspoon of salt
Directions:
In one large mixing bowl, blend together the flour, baking powder, and salt.
In a separate bowl, blend together the butter and sugar until whipped, then blend in the eggs and vanilla.
Combine flour mixture and sugar mixture together. Once the dough is completely blended together, separate into four equal pieces, flattened and wrapped in plastic wrap. Refrigerate overnight.
Preheat your oven to 350 degrees.
On a lightly floured surface, use a rolling pin to roll out the dough until it is a little less than a quarter inch thick. Using your desire cookie cutters, cut the cookies out of the dough and place on a lightly greased cookie sheet. Repeat this process with the other three pieces of dough. (Combine your leftover dough edges and roll them out. Could get you an extra cookie or two!)
Bake for 12 to 15 minutes until the edges are nice and brown. Make sure the cookie are cooled before glazing them.
The glaze
1 cup of powdered sugar
4 teaspoons of milk
1 teaspoon of vanilla
Blend ingredients together with a fork or metal whisk. Spread over the top of the cookies and add any sprinkles or toppings while the glaze is still wet. If you're feeling ambitious, separate the batch into a few bowls and add different food colorings.
- Ashley Favreau
12 Days of Cookies: Santa's Whisker Cookie
Growing up, I was always aware that my grandfather was a Navy sailor during World War II, and in my 10-year-old mind, I pictured him on the front lines, gun in hand, storming the beaches of Normandy. The reality of his service was slightly different, however. My grandfather served on the USS Independence as a baker.
Looking back on his service as an adult, I can just imagine my grandfather and his fellow sailors in the galley dressed in white T-shirts and white hats, smoking cigarettes and listening to Frank Sinatra or Ella Fitzgerald, dancing around as they prepared meals and treats for the rest of the ship.
One item my grandfather kept from his time of service was his cookbook. Rifling through the pages you can see plenty of recipes for hearty soups, breads and pies that have remained unprepared since the end of the war. However, one recipe from the book continues to be used year after year in my family.
The recipe is for a delightful treat called the Santa's Whisker Cookie. (Don't be frightened by the name, no actual whiskers are used.) Keep in mind that this recipe has been modified to feed a small family instead of a small fleet. Most of us don't typically use 50 pounds of flour when we are baking.
Santa's Whisker Cookie
Ingredients:
1 cup butter
1 cup sugar
2 tablespoons milk
1 teaspoon vanilla or rum extract (depending on your taste)
2 ½ cups flour
¾ cup finely chopped candied cherries (homemade or store bought)
½ cup finely chopped pecans
¾ cup flake coconut
Directions:
In mixing bowl, cream together butter and sugar. Blend in milk and vanilla (or rum extract). Stir in flour, candied cherries and pecans. Once combined form into two rolls, each two inches in diameter and eight inches in length. Roll each formed roll in coconut. Wrap finished rolls in wax paper and refrigerate several hours or overnight. Once fully chilled, slice each roll into ¼ inch thick slices and place on ungreased baking sheet. Bake in 375 degree oven for 12 minutes or until edges begin to darken. Makes about 5 dozen cookies.
- Kim Kamowski 
12 Days of Cookies: Jumbles
There is power in simplicity.
There is even more power in Christmas cookies. Therefore, there is power in the jumble, a modestly delicious staple of my family's Christmas tradition.
Growing up, I always overlooked jumbles at the dessert table in favor of more colorful, eye-catching cookies like sand tarts (face it, a rocking horse with sprinkle eyes and a green sugar mane is always going to take visual priority to a child). It was not until middle school that I finally broke this superficial barrier — a decision I have not regretted since.
Jumbles apparently date back to the 1700s, where they were enjoyed as cookie-like pastries sometimes twisted into a pretzel shape.
My family's jumble recipe, originally crafted by my great grandmother, yields a treat more akin to a pastry-like cookie: a semi-flat ring of crisped dough topped with sugar. Our jumbles fall somewhere between sugar cookies and donuts. With that range of characteristics, how could you possibly go wrong?
Jumbles
Ingredients:
Two sticks of butter
One cup of sugar
Two cups of flour
Two eggs
Extra sugar
Directions:
Preheat oven to 350 degrees.
Cream sugar and butter; add eggs one at a time; mix well. Add flour; mix well. Chill dough overnight. Roll dough into small balls – put back in refrigerator for 10 minutes. Roll each ball into ropes – form ropes into circles and flatten them on greased cookie sheets. Bake approx. eight minutes. Sprinkle with sugar after baking.
Yield: about five dozen.
- Jake Austin
12 Days of Cookies: Sand Tart Cookies
Looking back, the aroma of fresh-baked cookies carried a certain air of mystery.
Every year around this time my mom pulled out of a drawer an old index card listing the ingredients and instructions for making sand tarts – the seasonal favorite of my family growing up.
She would dust off the card and keep it handy as we all gathered in the kitchen of our row home along South Lincoln Avenue in Lebanon, Pennsylvania.
I can't recall ever getting a close look at what was on the card. I have no clue whether the words were typed or written by hand. I can't remember if I was ever told the origin of the family recipe. I can only guess that it was handed down from one of her relatives in Northumberland County. My mom was from Shamokin.
But the mystery didn't really matter at that time. I was just a boy, the youngest of three kids, and I had the job on the production line of using the old fashioned metal cookie cutters to carve out from the dough the shapes of snowmen, stars, Christmas trees and Santa Clauses.
Decorating the cookies followed soon after. Some were dusted with cinnamon. Others had chunks of walnut pressed down into the cookie surface. Many others were sprinkled with red or green colored sugar.
The cookies were a tradition that defined the holidays for many years of my childhood. Sand tarts were as much a part of our family Christmas as working together to hang decorations, assemble the artificial tree in the living room and setting up the Lionel train set in the basement.
I miss those days of growing up in the neighborhood between Walnut and Chestnut streets. We didn't always have a lot but we had one another. Traditions changed as I got older and moved away first to college and then for my career. At one point, I lost touch with my family and my past.
Today, I have no idea whatever happened to that family recipe. It may be with another relative. It may be lost forever. There was a lot of chaos after my mom died in 2006 and many family heirlooms were lost in the shuffle. But there is always the memory and the story of the sand tarts. Enjoy the recipe below. I found it on www.cooks.com.
Sand Tart Cookies
Ingredients:
One cup butter
Two cups sugar
Two cups flour
Two eggs
Directions:
Cream butter and sugar; add eggs; add flour. Best to make the dough the night before. Must be cold to roll out. Cut a piece off to roll and keep the unused portion in the refrigerator. Roll thin. Use cookie cutters and decorate with sugars; brush with egg before adding nuts, etc. Do not overbake. Cook until edges just start to turn brown. Bake at 350 degrees.
- Joseph Cress
12 Days of Cookies: Peanut Butter Blossoms
The Miles family isn't rife with holiday traditions, and while my grandmother never exerts the world-class effort drummed up on Thanksgiving for Christmas, there is always one constant at her house come late December: Christmas Cookies as we all call them — though really they're just Peanut Butter Blossoms.
You can buy these cookies at the grocery store. You can buy pre-made mix from the Dollar Store. But those aren't my grandmother's cookies. They're not the ones her big, rough hands smothered into round balls, then later, with those same rough hands, gently placed and lined along a baking sheet.
There's nothing special about her "Christmas Cookies," but to us, her children, grandchildren and great grandchildren, the enthusiasm she exudes for each holiday, and that rare practicality with which only grandmothers can give to their family, somehow makes her cookies more than what they are.
Ingredients
1/2 cup unsalted butter
3/4 cup of peanut butter
1/3 cup granulated sugar
1/3 cup brown sugar, packed
1 egg
2 tablespoons milk
1 teaspoon vanilla extract
1 1/2 cups Flour
1 teaspoon baking soda
1/2 teaspoon salt
Hersey Kisses or miniature Reese's Cups depending on taste
Directions:
Preheat the oven to 375 degrees. Line two baking sheets with parchment.
In a large bowl, beat the butter and peanut butter until well blended.
Add the sugars; beat until light and fluffy.
Add the egg, milk and vanilla, and mix well.
Stir in the flour, baking soda and salt.
Shape the dough into 1" balls and place the balls on the prepared baking sheets, about an inch apart.
Bake the cookies for 10 to 12 minutes and then remove them from the oven and place one Hershey Kiss or Reese's Cup on each cookie.
Let cool for a few moments and then dig in while the chocolate is still warm and gooey — that's important.
- Tyler Miles
12 Days of Cookies: Pinwheel Cookies
The dessert world is divided into two camps: Those who like crispy cookies and those who are wrong.
In my house, I fall into the first camp. My wife falls into the second. And while I would never tell her to her face she's wrong, I know I'm right.
In the last few years, I've been known for making my most excellent Peanut Butter Blossoms. But this year it was time to go big or go home. And when I found this recipe for Pinwheel cookies on tasteofhome.com, I had to take a shot. How hard can it be?
I'm an artist. I like to improvise. That's how the almond flour made it into the mix. I figured it would give the cookies a nice, nutty back and add to the crunch factor. If you're not into almonds, or have an allergy, simply make the recipe with 3 3/4 cups of all-purpose flour.
One thing I learned: You have get that roll tight, otherwise the cookie's signature spiral is sloppy or, worse, you end up with a hole in the center. A perfect roll starts with the very first turn. Use the wax paper to get that thin edge rolled over and don't be afraid to use your fingers.
The result? My wife, the soft-cookie connoisseur, ate one. Or three. We even sent a dozen to our daughter's daycare, where the little kids gobbled them up. Score one for the crispy cookie crowd.
Ingredients
1 c. butter, softened
2 cups sugar
1/2 c. packed brown sugar
2 large eggs
3 teaspoons vanilla extract
3 c. all-purpose flour
3/4 c. unblanched almond flour/meal
2 teaspoons baking powder
1/8 teaspoon salt
1/4 c. baking cocoa
Directions
In a large bowl, cream butter and sugars until light and fluffy. Add the eggs, one at a time, beating well after each. Beat in vanilla. Combine flour and almond flour, baking powder and salt; gradually add to the creamed mixture and mix well.
Divide dough in half. Add cocoa in one portion. Divide each portion in half. On a baking sheet, roll out each portion between wax paper into a 12-inch by 10-inch rectangle. Refrigerate 30 minutes.
Remove wax paper. Place one chocolate rectangle over a plain rectangle. Roll up tightly, jelly-roll style, starting with long side; wrap in plastic. Repeat with remaining dough. Refrigerate 2 hours or until firm. Unwrap and cut into 1/4-inch slices.
Place 2-inches apart on lightly greased baking sheets. Bake at 350 degrees for 10-12 minutes or until set. Remove to wire racks to cool. Yield: 6 dozen.
- Jason Malmont
12 Days of Cookies: Coconut Macaroons
The Creason family tradition of baking has mostly focused more on cakes and pies.
Cookies often fell under the radar. My immediate family is admittedly more of a "let's use the boxed ingredients" kind of bakers, and cookies posed more a problem in this area.
While frozen pie crusts, prepared graham cracker crusts and cake ingredients could be modified or improved upon, the boxed cookie ingredients were simply too sugary for a family who tends to slash sugar amounts specified in the recipe.
And yet, somehow, this sweet concoction was born.
The were a staple purchase for a while until we tried our hand at our own, considerably less expensive option. It's one of the few "from-scratch" recipes for cookies that we have, and it somehow appealed to me though coconut had never held much of an interest before.
Considering the ingredients below, the macaroon can be a sweetness overload. Though not in the recipe, I would suggest the possibility of melting some bittersweet chocolate and dipping the cooled cookies to make half-chocolate coconut macaroons. It may offset the powerful coconut part and make it a little more palatable to those like my family who want something a little less sweet.
The good part about this recipe, though, is that family members pouncing on the dessert table will not be able to eat more than two of these filling cookies without regretting what's on their plate. It should leave more for the rest of the family.
Ingredients
14 oz. of sweetened shredded coconut
14 oz. of sweetened condensed milk
1 teaspoon of pure vanilla extract
2 large egg whites at room temperature
1/4 teaspoon kosher salt
Directions
Preheat the oven at 325 degrees.
Put the coconut, milk and vanilla extract into a large bowl and stir together.
Whip the egg whites and salt together at high speed until they make medium firm peaks. This will be important so the ingredients you put on the pan do not get too runny or start leaking across the parchment paper during the first few minutes of baking.
Once both mixtures are ready, carefully fold the egg whites into the coconut mixture. Add about 1/3 in at a time and try not to stir — otherwise the eggs will lose their fluffiness. Add the rest and keep folding.
Place parchment paper on a cookie sheet (or likely two given the amount). Put spoonfuls of the coconut mixture onto the cookie sheet.
Bake for 25 to 30 minutes. Cool and they'll be ready to eat.
The recipe produces about two dozen cookies.
- Naomi Creason
12 Days of Cookies: Snowball Cookies
Snowball cookies, also known as Russian tea cookies, did not come to be a holiday tradition in my household until well into adulthood after I met my wife.
I can distinctly remember coming home during the Christmas season the first year after we were married to the aroma of these baked goods filling our two-bedroom apartment.
At the time I was working as a salesman at a local paint store while attending college.
These cookies were a tradition dating back generations in my wife's family. They have become a delicious yearly tradition as our two families have merged and likely will continue to be one for generations to come.
Ingredients:
2 cups flour
2 cups finely chopped walnuts
1/4 cup sugar
1 cup butter
1 teaspoon vanilla
Powdered sugar
Instructions:
Preheat oven to 325 degrees
Combine all ingredients except powdered sugar in bowl. Beat at low speed, scraping bowl occasionally, until well mixed.
Shape dough into one inch balls. Place cookies one inch apart onto ungreased cookie sheets. Bake 18-22 minutes or until very lightly browned. Cool 5 minutes then roll in powdered sugar while still warm and again when cool.
- Joshua Vaughn
12 Days of Cookies: Oatmeal Scotchie
While quite used to today's mod-cons, I do feel a pang of envy for folks who, like my great-grandmother as a child, kept Christmas with her family in one of the loneliest, weather-worn sites on Earth, the stormy Orkney Islands.
Talk about cold Christmases. The daughter of a blacksmith learned those arcane wood- and peat-stove baking secrets passed on among the island Scots, who mostly were of Danish heritage. Out of that tradition, anchored firmly in the use of oats and their wide range of baking possibilities, came those treasured crispy holiday mainstays now known as oatmeal scotchies.
The chewy commercial pre-mixed versions available at the supermarket are passable, one supposes, if one likes chewy cookies. Give me the home-baked crispy variety anytime.
The secret, of course, was in the butterscotch — homemade by my grandmother who inherited the recipe. It's a lost art. An all-too sweet substitute sadly is only available now in the commercial "artificially flavored" chip or sauce form. Butterscotch it's not.
But one can try. Remember the trick is to ensure they're crispy, but not over-baked.
Key to the true oatmeal scotchie is the purity of the ingredients. Whole grain stone-rolled Scottish oatmeal only. No margarine — never. That's as pointless as "low-fat pudding."
Herewith, a taste of the Orkneys:
Ingredients:
3 cups uncooked Scottish whole stone-ground oatmeal
2 extra-large eggs
1 to 1 and 1/4 cup King Arthur organic unbleached flour
1 to 2 teaspoons baking soda
1 cup brown sugar, firmly packed
1/2 cup sugar
2 sticks Kerry Gold or other premium butter (softened)
Pinch of salt
2 cups, halved Guittard butterscotch chips
Directions:
Mix ingredients. Bake 15 minutes at 350 to 375 degrees on heavy cookie sheet. Makes two to three dozen cookies depending on preferred thickness. My favorite: the thinner and flatter the better.
- William Parkinson
12 Days of Cookies: Johnny Appleseed's Filled Cookies
As we head down the home stretch of the holiday season, we here in the newsroom would like to share a piece of our Christmas past with you in the form of the goodies we love the most.
Today begins The Sentinel's 12 Days of Cookies ... one cookie a day for the next 12 days, including the recipe and the story behind why it's a treasured holiday cookie for the writer involved. One of those days — Sunday for Day No. 7 — the cookie will be available on cumberlink.com.
These memories are what make the holiday season special for everyone involved. So feel free to contact me at jpratt@cumberlink.com with any of your own cookie suggestions.
The cookie
I've always been curious; it's what I like to think drew me into this wonderful world of newspapers. It's also what made me a pest every Christmas season as I searched out the presents and hunted down the baked goods my mom would make every year.
Johnny Appleseed's Filled Cookies were always my main target. I don't profess a strong love of apple butter, but I always begged for these cookies as they came out of the oven.
Now my mother, like most, worked ahead for the holidays. She started her baking early in December to have cookies and goodies ready for visitors and friends throughout the month. That meant saving the cookies, which in turn meant hiding the cookies.
It became a game for me every holiday, trying to find the new spot in our house where my mom would hide the apple butter cookies. It even took my attention away from searching for the presents.
That's the memory I crave the most these days almost as much as the cookies — the thrill of the hunt and knowing that my mom would have those cookies waiting every Christmas day.
Johnny Appleseed's Filled Cookies
Ingredients:
1 cup shortening
2 cups sugar
4 eggs
2 tbsp. cream
2 tsp. vanilla
5 cups flour
1/2 tsp. baking soda
1 tsp. salt
jar of thick apple butter
Directions:
(Makes about 60 cookies)
Mix shortening, sugar, vanilla and eggs together thoroughly. Stir flour, baking soda and salt together. Stir into egg mixture.
Chill 1 hour.
Roll dough about 1/8 inch thick on lightly floured board — cut with overturned glass. Cut slits in the top of half of them.
Place one on pan, top each with a teaspoon of thick apple butter, cover with another round, which has slits in top.
Press edges together with tines of a fork.
Set oven at 400 degrees and bake 8 to 10 minutes.
- Jeff Pratt