The Prosecution: Felony assault charges rise as new law takes effect
In January, 25-year-old Michael Anthony Woods, of Shippensburg, became the first person in Cumberland County charged under Pennsylvania's new strangulation law aimed at increasing penalties for domestic violence.
Since his arrest, nearly 60 more people have been charged with the offense in the county, causing felony assault charges to nearly double compared to 2016, according to an analysis of court records conducted by The Sentinel.
"(Strangulation) is a really significant signal that the victim is in significant danger," Pennsylvania Coalition Against Domestic Violence Deputy Director Ellen Kramer told The Sentinel in January.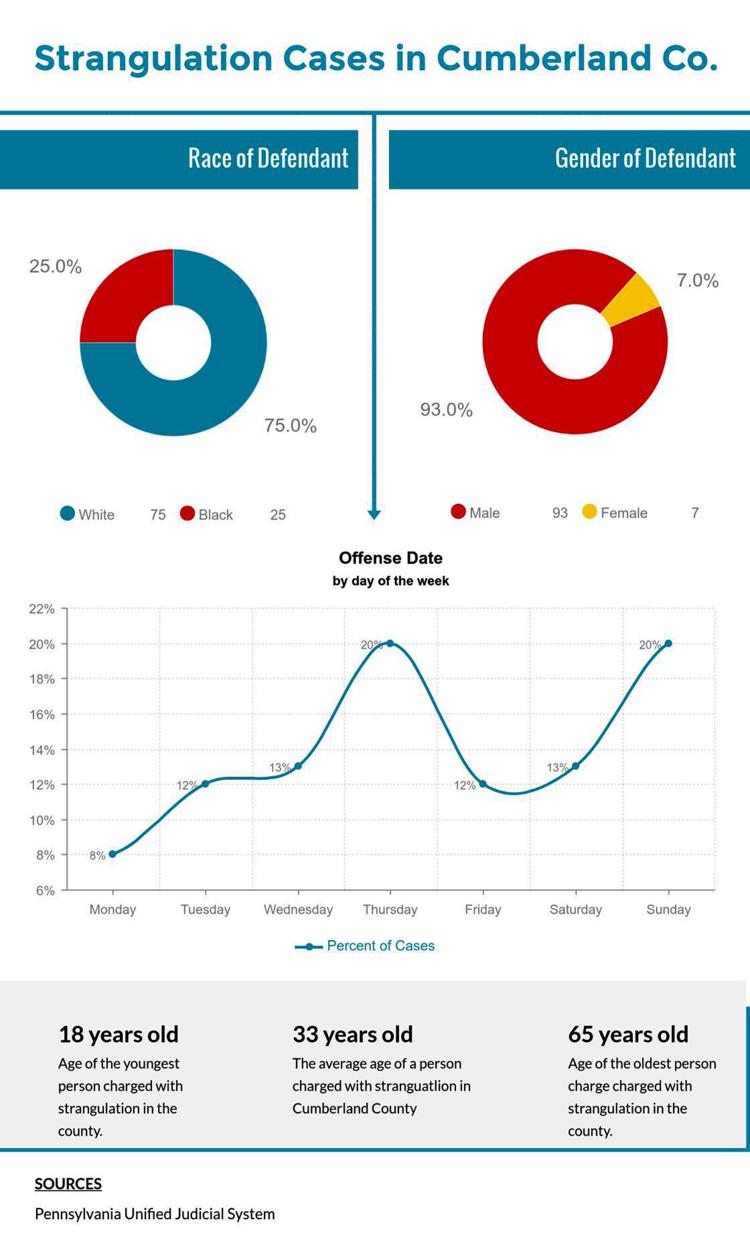 Pennsylvania's strangulation law was passed by the Legislature at the end of 2016 and specifically criminalizes the act of impeding a person's breathing or circulation by applying pressure to the throat or neck or by blocking the person's mouth or nose.
The crime is graded as a second-degree misdemeanor, similar to simple assault, but increases to a felony in certain situations like a victim being a family or household member, the assailant is subject to a protection from abuse order or the assault takes place during an act of sexual violence.
Kramer said nonfatal strangulation is an indicator the violence could escalate to homicide.
A study by Johns Hopkins University professor Nancy Glass found victims of nonfatal strangulation had a more than six-fold increase in odds of becoming a victim of attempted homicide and a more than seven-fold increase in odds of being killed.
"Strangulation is a unique crime," Kramer said. "This is a situation where someone is using their hands to bring a person as close to death as we might see."
A strangulation victim can lose consciousness within a few seconds and death can occur shortly after, she said.
"This is very different than an assault like we normally think of them," Kramer said.
Prior to implementing the new law, prosecutors had to determine if a strangulation case should be charged as misdemeanor simple assault or felony aggravated assault. The main difference between the two is the injury, or attempted injury, the victim suffers.
Cumberland County District Attorney David Freed said proving strangulation caused serious bodily injury, as required by the aggravated assault statute, was difficult.
"When you get to that argument about serious bodily injury, that's what makes those cases really tough," Freed said.
Serious bodily injury is generally defined as causing major impairment or the loss of bodily function or causing major injury or disfigurement, which can be difficult to prove in strangulation cases where the only signs of physical injury may be bruising, according to Freed.
"Whether it deters them or punishes them, (the law) highlights the (offenders) who are of high risk, which will provide more protection for their victims," he said.
Felony assault charges in Cumberland County are up roughly 94 percent during the first nine months of the year compared to 2016, according to an analysis by The Sentinel.
The increase appears largely to come from felony strangulation cases that did not include a charge of aggravated assault, the analysis found.
During the first nine months of 2017, 47 felony aggravated assault cases were filed in addition to 42 felony strangulation cases, according to court records.
In the same time frame last year only 46 aggravated assaults were filed, court records showed. Aggravated assault was the only felony assault charge available for these types of cases at the time.
Misdemeanor simple assault cases have decreased by roughly 4 percent between 2016 and 2017, and overall assault cases are up 6 percent in the county, according to court records.
This may mean cases that would have been charged as a misdemeanor prior to the new law are now being charged as a felony.
The Sentinel also reviewed assault cases in Franklin, Adams, Perry, Dauphin, York and Bedford counties and found similar trends in all but Perry County.
Felony assault cases rose by roughly 30 percent in Franklin, Adams, Dauphin and Bedford counties following the implementation of the law while overall assaults, simple assaults and aggravated assaults dropped, according to the analysis.
In York County, felony assaults rose by more than 50 percent while filings for simple assault and aggravated assault dropped, The Sentinel found.
The large difference between Cumberland County's increase and the other counties likely has to do with how infrequently Cumberland County charged felony assault prior to the new strangulation law. Freed attributed this to the county's requirement that all initial charging decisions be approved by an assistant district attorney before filing. Police in the other counties can make the decision of what to charge in many cases and the prosecutor is brought into the case after.
Cumberland County's rate of felony assaults in 2016 was roughly 19 per 100,000 residents. The next closest county was York with a rate of roughly 28 cases per 100,000 residents and Dauphin County topped the list at roughly 83 cases per 100,000 residents, The Sentinel's analysis found.
Perry County was the only outlier in the review of court records. Across the board assaults fell in the county.
However, a roughly 60 percent drop in aggravated assault charges correlated to only a 20 percent decrease in felony assault cases, according to court records.
At the end of 2016, Penn Township moved to eliminate its police department, shifting duties to Pennsylvania State Police. Penn Township operated one of the few municipal police departments in the county, which may contribute to the overall drop in criminal filings.
To conduct the study, The Sentinel reviewed all criminal cases entered into the Pennsylvania Unified Judicial System in the seven counties. The assault cases were separated and sorted into categories based on the highest assault charge.
If a case included an aggravated assault charge, regardless of including simple assault or strangulation, it was placed in one category. Strangulation cases charged as a felony that did not include an aggravated assault charge were placed in another, and simple assault cases that did not include felony strangulation or aggravated assault were placed into a third category.