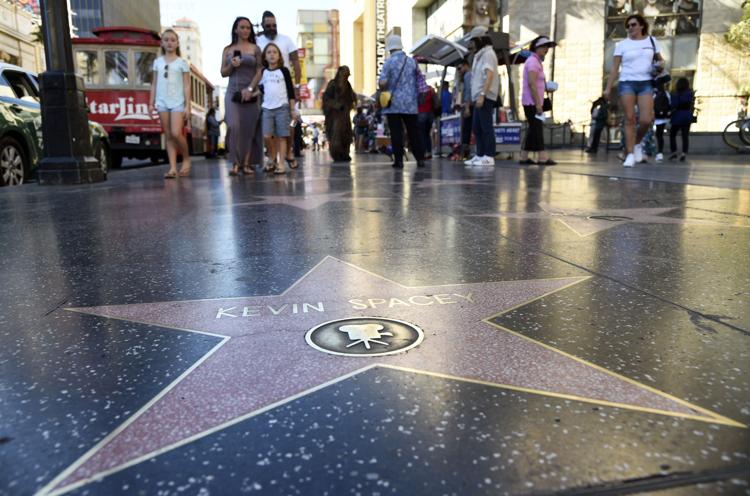 An October New York Times story containing allegations of sexual harassment and assault against Hollywood mogul Harvey Weinstein set off a cascade of disclosures this fall.
Sen. Al Franken resigned Tuesday after a series of allegations of sexual misconduct.
Today Show host Matt Lauer was fired amid sexual misconduct charges.
The list of the accused included comedian Louis CK, news anchor Charlie Rose, actor Kevin Spacey and other figures in politics and media.
"These are very clear examples of men in power and how they used that power over men and women they were in contact with," said Miller Hoffman, Sexual Assault/Rape Crisis Services Prevention Education coordinator at YWCA of Carlisle.
The national revelations have echoes locally as more people become aware of the scope of sexual misconduct.
Kristin Houser, chief public affairs officer at the Pennsylvania Coalition Against Rape, said the revelations have sparked an increase in inquiries at both PCAR and the National Sexual Violence Resource Center, and has prompted conversations that bring to light the full spectrum of behaviors that constitute harassment.
Defining harassment
"Sexual harassment is anything of a sexual nature that is unwanted and repeated," Hoffman said.
There's no lower-limit threshold of behavior that must be crossed for an act to be considered harassment. It can be behaviors, stories, words or jokes that the victim expresses as being unwanted.
"These things are all under the umbrella of sexual harassment," Hoffman said.
Hoffman said most statutes require that it be communicated that such interaction is unwanted, though exceptions exist for significant acts such as "quid pro quo" sexual requests that make a sexual demand in exchange for a promotion. While men are overwhelmingly perpetrators of sexual harassment and violence, they may be victims as well.
"If we fail to talk about how anyone can be victimized, we are creating more obstacles for men to come forward. But if we pretend that men and women are equally perpetrators, then we are going to miss an opportunity to talk about one of the things that's at the root of what we understand to be rape culture," he said.
Harassment, assault and rape happen anywhere there is a difference in power between workers. These power differences many times play a role in whether a victim will come forward due to concerns about potential retaliation or consequences for sharing their story.
"Folks are often concerned about what impact this will have on their safety, their life, their careers, their financial well-being. And then it's true that some folks don't recognize what's happened as assault," Hoffman said.
That lack of recognition comes sometimes because the perpetrator is someone the victim knew and trusted, and they don't realize what happened beyond the feelings of trauma, discomfort, fear and safety.
"We tend to think of perpetrators as these nasty-looking, sociopathic people. That is the worst of the worst, but a lot of these people that perpetrate sexual violence present in ways that people like these people," said Dana Hippensteel, Sexual Assault/Rape Crisis Services Prevention Education coordinator at YWCA of Carlisle.
Reporting
With accusations of sexual misconduct, there are often counter-accusations of false reporting, but that is not a likely scenario based on the statistics.
False reporting for all felonies ranges from 2 to 10 percent of the crimes reported, and that holds for rape as well, Hippensteel said.
"It's not like there's this crazy amount of false reports coming, and that people are just falsely accusing people. But, for some reason, they are crimes that we, as a culture, do question," Hippensteel said.
Up to 70 percent of survivors do not report harassment or assault at all, Hoffman said.
"If someone does not report to law enforcement or doesn't want to move through any type of investigation, it doesn't mean that something didn't happen. It means that they might not want to do that part of it," Hippensteel said, adding that some may begin the process only to stop later when it becomes overwhelming.
Of the remaining cases, some are not believed and are dismissed, Hoffman said. Of the cases that do move forward through the criminal justice system, some will not present a strong enough case for the district attorney to prosecute.
"That, again, does not mean that something didn't happen. It means that they're just not able to prove it on a criminal level or they don't want to put a victim through something like that and then it not come out that it's guilty," Hippensteel said.
Those that go to trial carry a high burden of proof, and some portion of those cases result in not guilty verdicts. Hoffman again said that such a verdict doesn't mean the incident didn't happen or that it is a false report.
Victims also may decline to come forward due to the negative attention these cases garner. They may decide to cut their losses and change careers rather than pursue a case for which there may be no consequences.
"When folks are talking about the horrible loss of productivity from these men who are perceived to be under attack, isn't it worthwhile to think of what we have lost? What might these women, what might these men have produced?" Hoffman said.
Hoffman also noted some defend those accused of harassment or sexual assault by saying the accused is innocent until proven guilty, which is the standard for criminal charges and not necessarily for workplace findings.
"In the case of a criminal charge, there would be a certain burden of proof that is usually beyond a reasonable doubt, and you go into a court of law and have to establish that something happened that meets that burden of evidence," he said.
None of the high-profile cases that made headlines through the fall have yet to become criminal cases. They are employment cases in which companies look to their policies to determine appropriate behavior and act accordingly should the behavior not meet the criteria set in those policies. That can result in sanctions that may look similar across the board despite the differences in the behavior.
"If you think in those terms, it becomes clearer to understand that Louis C.K. would have sanctions for his behavior, and Harvey Weinstein would have sanctions for his behavior and that Al Franken would have consequences for his behavior. Those consequences would be very similar because at this time what's happening are employment or workplace consequences," Hoffman said.
Why now?
Social media may play a factor in the cascade of revelations. The technology seems less risky, which empowers those wanting to share their stories or to offer support. In a manner similar to group therapy, social media chips away at the sense of isolation among survivors.
"Social media has enabled that to happen to a much broader level," Houser said.
There's no way to prove it, but Hoffman said the timing of these harassment allegations and the election suggest a relationship.
"I do believe that what's happening now could very well be a direct response to the election and the 'Access Hollywood' video that came out. I think it's very possible that may have galvanized some attention, some awareness, some support for victims," he said.
That said, Hoffman believes there will be an "expiration date" on these disclosures, but more are likely to come before that date is reached.
"I'm not sure we've seen much more than the tip of the iceberg," he said.