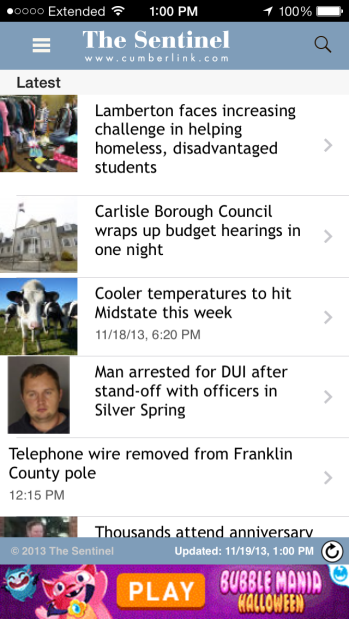 cumberlink.com - News Apps
Check out a host of new features for iPhone and Android. Get news, events, weather and sports and more from the number one local website in the Carlisle, PA area.
New and popular features:
See the latest news, photos and videos. Use a speedy new navigation to swipe through all the latest items quickly.
Download and save articles to read later, or easily share links to your favorites on Facebook and Twitter.
Check out local events near you on maps, then save reminders to your phone's calendar
View classified ads, job listings, autos for sale and more.
Get real-time weather conditions and forecasts.
Search our archive.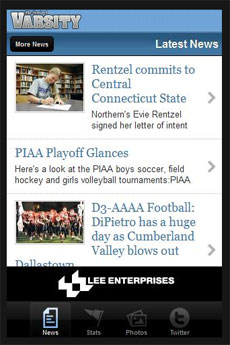 cumberlink.com - Sports App
Cumberlink.com's FREE Varsity Sports App for Local Sports keeps you up to date with exclusive local high school sports coverage and scores while you are on the go.
Here's what you get:
Latest updates on All major prep sports from the The Sentinel
Scores, schedules, stats and detailed rosters from the Mid-Penn Conference teams
Stunning game-action photos
Pre-game information, in-game commentary and post-game analysis of your favorite teams
LIVE Twitter feeds with scoops and insights from our top sports reporters
All for FREE!
If you follow high school sports in the Carlisle area, then you need this app!
Have questions or feedback on the cumberlink.com's FREE Varsity Sports App? Email us! We are always looking for suggestions on how to provide you the best experience possible. Also, don't forget to rate the Varsity Sports App.